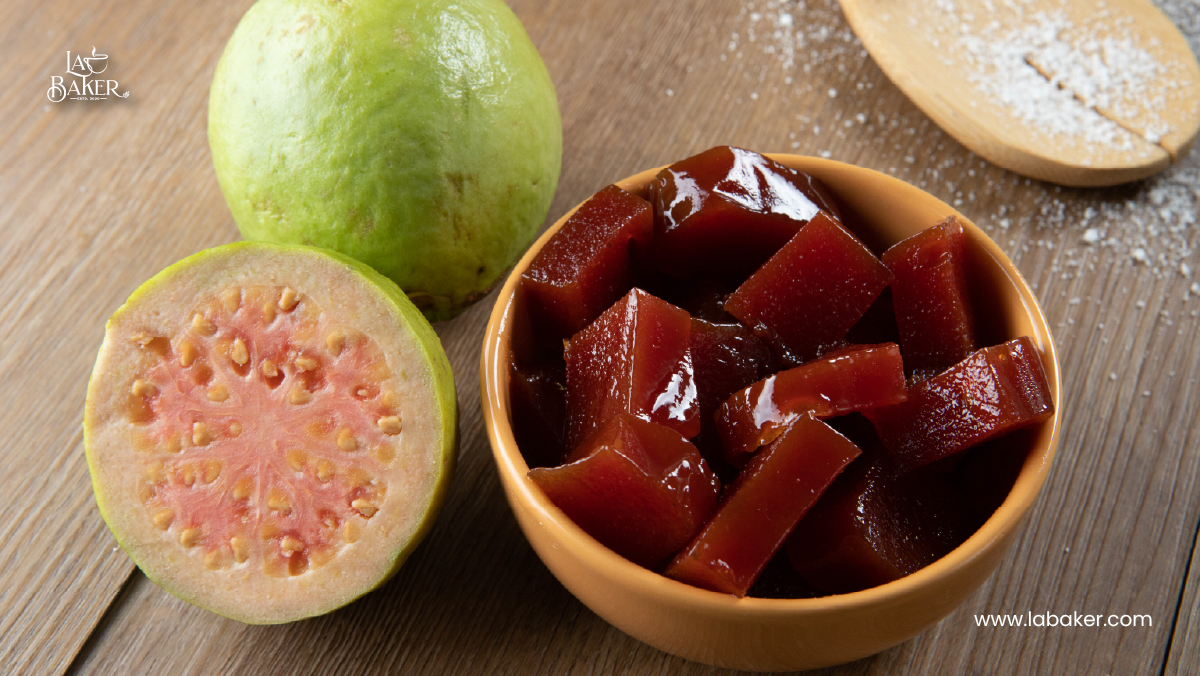 Recipe for Guava Paste – Given Below!
If you love sweetness and sourness in your food, Guava paste is a good choice for you. You can add guava paste in your dish and dessert to get an extra taste. People always want to learn 'how to make guava paste spreadable.' The answer one can find here.
Are you looking for the best recipe for Guava paste? Then you have come to the right place. Here, I will share ideas for how to make guava jelly, how to make guava paste from fresh guava and how to make guava filling with guava paste. Here, you will get the easiest recipe to make Guava paste at home. So, stay with me to learn the recipe. Let's start the discussion with the definition of Guava Paste.
What Is Guava Paste?
When you mix sugar and Guava puree together to create a thick, jelly-like liquid known as guava paste. Although it used to only be used in desserts, it is now utilized in savory foods as well. You can make guava cheese bread, guava pudding, guava cake, sandwiches, pastry, cheesecake and many more with guava paste.
In addition to the thick, jelly-like slab that is most frequently found, guava paste also comes in the forms of a thin paste and a spread. Guava paste is a common ingredient in foods and desserts in places like America, Brazil, India, and Spain. Guava paste can be used in a wide variety of ways.
You can Learn more: Best way of using guava paste
Recipe for Making Guava Paste from Fresh Guava at Home
Guava Paste Ingredients
| | |
| --- | --- |
| Fresh Peeled Ripe Guava | 2 Pounds |
| Water | 1 and 1/2 cups |
| Sugar | 4-5 cups |
Servings
Cooking Time
Preparation Time
Peeling 2 pounds Guava should take 18-25 minutes
Mixing Time
Mixing water and sugar in the purée should take 5-7 minutes
Step By Step Process of Making Guava Paste at Home
Step #1
Slice guavas in half, then remove the seeds.
Step #2
Put the seeds in a cup of water to soak.
Step #3
Put the guavas and the remaining water in a saucepan.
Step #4
Cook the guavas until very soft after being brought to a boil and then steamed.
Step #5
To avoid burning and sticking to the saucepan, stir frequently.
Step #6
Add the slightly sticky water strained from the seeds to the cooked guavas.
Step #7
Remove the seeds.
Step #8
Crush the guavas in a food processor, then measure the pulp.
Step #9
Put in an equal amount of sugar
Step #10
Mix well and heat the mixture, stirring continually with a wooden spoon over low heat, until it is thick and a small amount of jelly put on an ice cube can be pulled off with no spills.
Step #11
Remove from heat, then beat the ingredients with a wooden spoon for 10 minutes, or until it thickens into a paste.
Step #12
Turn out into a square casserole pan or a loaf pan that has been lined with wax paper.
Step #13
For 24 hours, place it in an excellent location.
Step #14
Turn the paste out of the pan and cover it tightly in foil to store.
Nutritional Value of Guava Paste
| | |
| --- | --- |
| Portion Size | 20g |
| Amount Per Portion | 56 |
| Calories | %Daily Value |
| Total Fat 0.1g | 0% |
| Sodium 0.4mg | 0% |
| Total Carbohydrate 15g | 5% |
| Dietary Fiber 0.2g | 1% |
| Sugar 14g | – |
| Protein 0g | 0% |
| Vitamin D 0mcg | 0% |
| Calcium 0.6mg | 0% |
| Iron 0mg | 0% |
| Potassium 14mg | 0% |
Benefits of Guava Paste
Increases the taste of your usual dish
Improves your skin
Develops digestive system
Boosts your immunity
Improves your heart health
End Note
Finally, I believe that you have read the entire recipe. Now, you know how to make Guava paste and guava filling from fresh Guava at home. Famous chefs all around the world follow this recipe while they have to make Guava paste. Try it at home and prepare some delicious dish and dessert with guava paste.
Frequently Asked Questions
1. How to store guava paste?
Keep the guava paste in an air tight container to store it. You can also use foil paper to store the guava paste.
2. How to soften guava paste?
Use a microwave-safe bowl to soften guava paste. Keep the guava paste in the bowl. Add boiled water to the bowl and wait for a while. If it is needed, add more water and continue heating for 30 seconds. Stir it continuously until the guava paste has softened and becomes spoonable.
3. Does guava paste need to be refrigerated?
Yes. To keep it fresh for up to 3 months, guava paste needs to be refrigerated.
4. How long does guava paste last in the fridge?
Guava paste lasts in the fridge for up to 3 months.
5. Can you eat guava paste raw?
Yes! You can eat Guava paste raw. It tastes good by having it raw.
6. Is guava paste good for you?
Yes, of course. Guava paste is good for you because it helps you to improve your skin.
7. How to keep guava fresh without refrigeration?
Use a plastic bag and put the guava in it to keep Guava fresh without refrigeration. When you put the guava in the bag, make sure it is clean and dry.