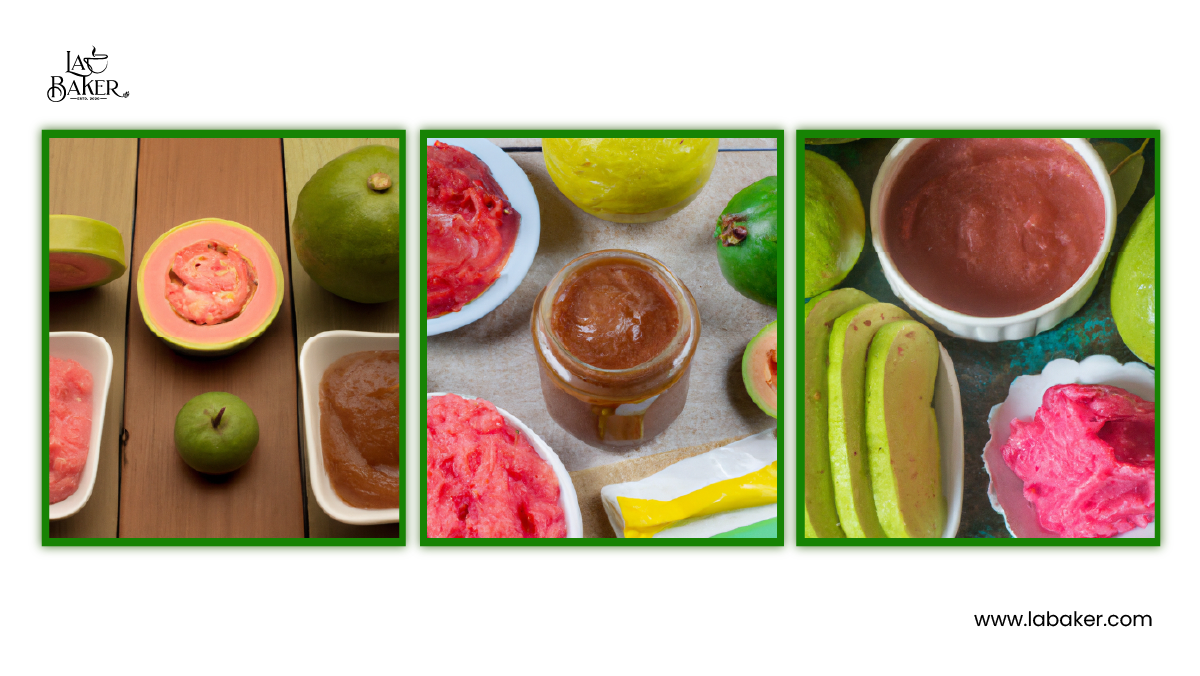 How to Use Guava Paste
Guava paste is a new way to eat guava instead of eating fruit. People love to try new things and guava paste is one of them. Do you know that you can use guava paste for sweet and savory food items? Not only in food but also in drinks.
You can use guava paste in many ways. In this article, we will share different types of uses of the paste. You can try them at home! So, let's start the discussion with the definition of guava paste.
What Is Guava Paste?
Guava paste is a thick jelly-like liquid that is made of sugar and guava puree. It is a common ingredient in desserts but now it is used in savory items. Guava paste comes in a variety of textures in addition to the thick, jelly-like slab that is most usually discovered, including a thin paste and a spread. In countries like America, Brazil, India, and Spain, people use guava paste in their food and dessert. Anyone can make many uses of guava paste.
You can also read this article for delicious recipe: How to make guava paste?
What Can Guava Paste Be Used for?- 7 Best Ways
You can use guava paste in many types of food and desserts. People love using guava paste in their savory food and dessert in Latin America. Here we will share some ideas to help you use guava paste. Let's get started!
1. New introduction of Pastry Puff: Guava Pastry Puff
Guava paste is frequently used to fill pastry puffs, which is one of its more popular uses. Let's learn how to use it in pastry puffs.
Simply spread out your pastry dough first. Then add cream cheese, egg whites, and guava paste. You must prepare a delicious filling to put in the dough's center.
Guava pastry is used by folding that over and baking it. It is puffy, light, and flaky. These are extremely good, and add a little sugar to make them even sweeter. Guava paste works well as a jam alternative in pastry puffs, giving the pastry a unique flavor.
2. A New Addition to Cheesecake: Guava Cheesecake
You can create a new recipe for a cake with guava paste. Many people ask how to use guava paste in cake or how to use guava paste in baking. So here you will get the answer.
Start with adding guava paste while mixing the ingredients for your cheesecake. It will give the cake a fruity flavor that gradually changes the flavor. You must try this cheesecake if you believe you have eaten every type. The cream cheese combination and guava paste make a delicious filling for cheesecake. Try this today!
You can also visit my another item page – Cheesecake NY style
3. Use in Swiss Roll Cake and Muffin Cake Filling
You can fill your swiss roll with guava paste. The filling will require a thinner consistency, like a spread. It can be used in the Classic Swiss Roll Recipe instead of the strawberry jam. To make muffins with a guava surprise, stir a little square of the paste into the batter before baking. Adding guava paste to muffin cake and swiss roll cake will change the whole taste.
Read also: How to make dinner rolls?
4. A Unique Combination Makes When You Use It in Meat
You can use Guava paste in contrasting sweet flavor to meat or poultry dishes. It can be stuffed into chicken breasts and baked or grilled after that. Additionally, you can use it to glaze ham. Use it in the recipe for Roasted Ham With A Delightful Honey Glaze to replace the honey.
5. Use in Sandwich Filling to Get A NEW Combo
It's amazing and one of the simplest ways to use guava paste in cooking. You can use this information to keep using the paste and how it will affect other foods. Therefore, before using it in a dish, you can test it in a simple sandwich to specify if you want to keep doing so. Mix 1-2 teaspoons as it depends on the sandwich filling amount in the filling. Spread the filling on the bread. You will get a combination of sweet and savory. Try it today!
6. Why Not in Guava Cheese Bread?
Use guava paste in guava cheese bread. It gives the cheese bread a unique and better taste. People all over the world have this bread as a dessert. It is a perfect dessert and snack for adults and kids. It is not a new idea to use guava paste in cheese bread, but it is the best way of using it. Try it today, and we believe you will love this combination!
Recommended reading: Recipe of making guava cheese braided bread
7. Try Guava Paste in Guava Pudding
The best way of using guava paste is in guava pudding. While making guava pudding, add some guava paste with milk and egg. After mixing all the ingredients properly, bake it! It will give the intense fragrance of guava and the proper thickness that you will want in your pudding. It will also change the taste. So, don't overthink and use guava paste in your guava pudding.
End Note
Finally, guava paste can add a new taste to all dishes. You can use it in your sweet and savory dishes. Here, in this article. We have shared some of the best ideas on using guava paste to get a better taste of the dish. Try all these ideas at home today.
Frequently Asked Question
1. How long can you preserve guava paste?
Turn it out, divide it into servings, and savor it! Keep wrapped in parchment paper in the refrigerator in an airtight container. It can last for three months.
2. Will the guava paste melt?
Blend the guava mixture with the juice or hot water in a food processor until it is completely smooth. Alternatively, the guava paste can be melted in a microwave or a pot over the stove. Use more or less liquid to achieve the desired consistency.
3. Is guava paste required to be refrigerated?
Guava paste can be kept at room temperature after being opened. It should be plastic-wrapped or kept in an airtight container.