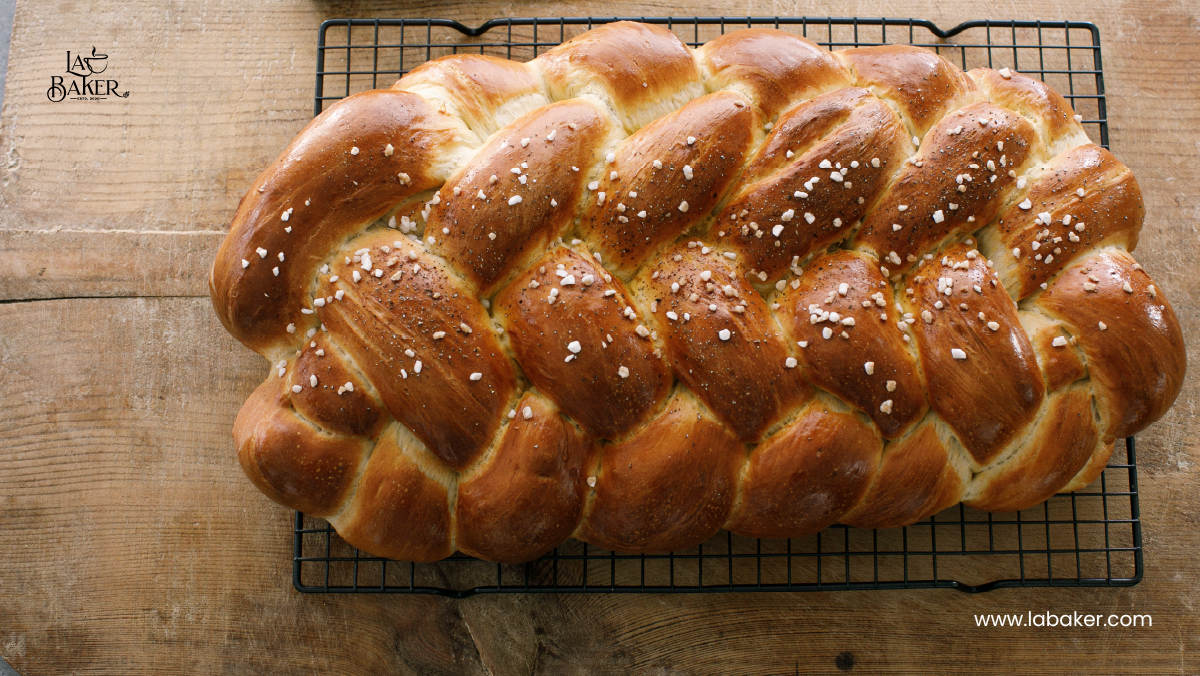 Recipe of Making Guava Cheese Braided Bread Step-by-Step Process
Guava and cheese bread are very tasty, and people love to eat them. You can buy them at the shop, but making them at home gives a better taste, and it is hygienic too. But getting the exact shop-like taste at home is challenging. This bread also tastes like pastry. You must follow a step-by-step process to make it.
Are you looking for the easiest recipe to make guava cheese braided bread? Here, we will share the easiest recipe for making guava and cheese bread braid. This recipe is also called cream cheese and guava. You can follow it at home and make some delicious guava cheese braided bread. So, let's start the guava bread recipe with its ingredients.
Ingredients for Guava Cheese Bread
| | |
| --- | --- |
| Refrigerated Eggs | 2 |
| Guava paste | 7 oz. |
| Granulated sugar | 1/4 cup |
| Flour | 2 and 3/4 cups |
| Salt | 1 tsp |
| Sugar | 1 tsp |
| Vanilla Extract | 2 tsp |
| Yeast | 1 and 1/2 tsp |
| Unsalted Butter | 4 tbsp |
| Cream Cheese | 4 oz |
| Sour cream | 6 tbsp |
| Water | 1/3 cup |
| Bowl | 2 (medium size) |
Cooking or Baking Time
5-8 minutes (wait until the bread becomes golden)
Mixing Time
Mixing water, Salt, and flour for the dough is 4-5 minutes
Mixing guava paste, cream cheese, and sour cheese for 3-5 minutes
Preparation Time
Preparing the dough and making small balls 7-10 minutes
Add the filling in the center of the spread dough for 2-3 minutes and make braids for 2-3 minutes.
Servings
For 2-3 Persons
Step-by-Step Process of Making Guava Cheese Braided Bread
Step #1
Make a dough with flour. Use a pinch of salt and water according to the need of the flour. Use your hand and mix them all and make the dough in a bowl.
Step #2
Make small balls from the dough. Take one and roll it. Make tiny incisions along the sides to create the braiding pieces.
Step #3
Take a bowl and mix guava paste, cream cheese, and sour cheese to make a filling.
Step #4
Add the filling in the center of the dough
Step #5
To create a braid, place the side sections on one another. The braids are done!
Step #6
Repeat the procedure with the balls of dough. After dusting with sugar and baking till flawlessly golden brown, apply egg wash.
Step #7
Your guava cheese braided bread is ready. Serve it and eat it!
Nutritional Value of Cheese Guava Bread
| | |
| --- | --- |
| Nutrient | Value |
| Calories | 330 kCal |
| Total Carbs | 34 g |
| Net Carbs | 33 g |
| Fiber | 1 g |
| Starch | – |
| Sugar | 13 g |
| Sugar Alcohols | – |
| Protein | 4 g |
| Fat | 20 g |
| Cholesterol | 20 mg |
| Glycemic Load | – |
Read my other delicious bread recipes such as-
Also read,
Want to upgrade your burger or sandwich? Try these tasty bread options!
If you have doubts about how to use leftover bread or how to store bread dough then you can read my blogs about these topics. By following these blogs, you can keep your bread and dough fresh for longer and minimize food waste.
Gain more knowledge by checking out my other blogs–
End Note
Finally, We believe that you have gone through this entire recipe. Please try it at home. Experts chefs use this recipe worldwide. The taste will be perfect, and everyone will love your guava cheese braided bread. Believe us and make your guava cheese braided bread today at home!
Frequently Asked Questions
1. What Cheese Goes Best with Guava Paste?
Cream cheese, queso cheese, mozzarella cheese, and sour cheese go best with guava paste. If you want to make a recipe with guava paste and also want to use cheese, then try to use these cheeses. We believe that this answer works for another question which is 'what cheese pairs with guava paste?'
2. What ingredients make guava cheese?
"Guava Cheese" will have you craving more because of its alluring flavor. This dish is simple to prepare and calls for guavas, lemon juice, water, salt, and sugar.
3. Where do cheese and guava come from?
Guava and cheese have their origins in Cuba, where they were the highlight of the variety of incredibly sweet baked products made there using a combination of European methods and tropical Cuban ingredients.