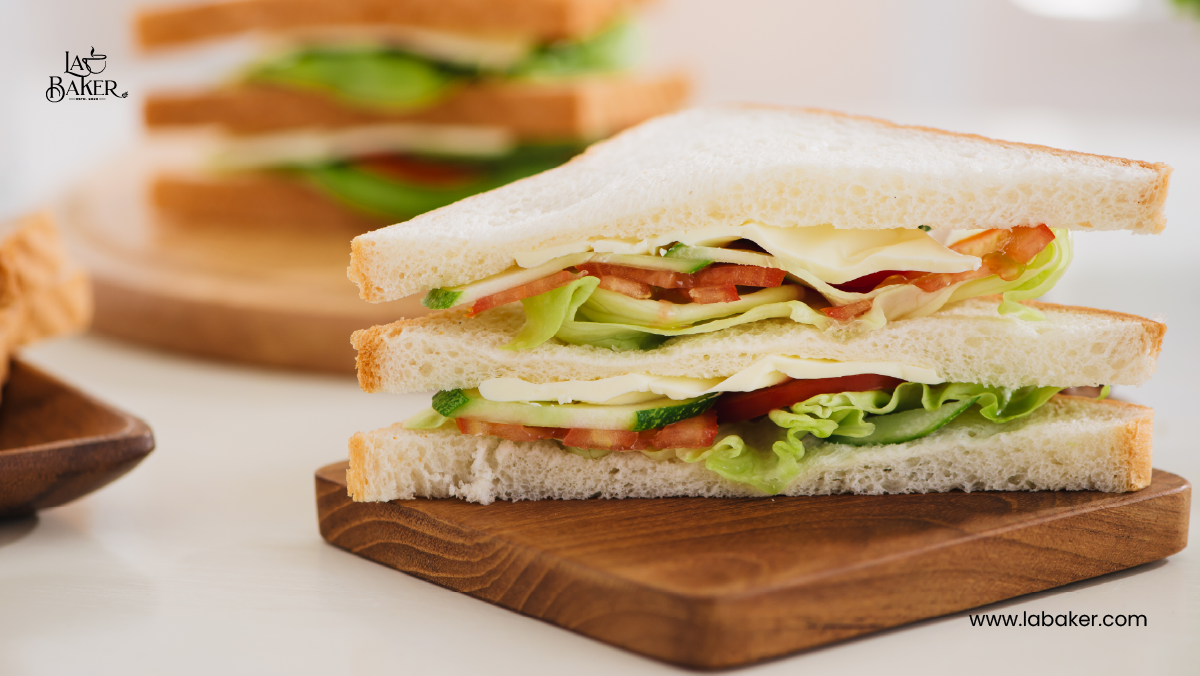 How to Make White Sandwi...
You will find sandwich lovers worldwide. People eat sandwiches for breakfast, lunch, and also for dinner. But, when the sandwich is not made of good bread, it doesn't taste good. Sandwiches taste good with baguettes, artisan bread, ciabatta, brioche bread, etc. But a sandwich tastes the best when you use white sandwich bread.
Baking white sandwich bread is very fun. All you have to do is to follow a proper recipe. Do you want a good recipe? If yes, then this article is for you!
Here, I will share how to make white bread sandwiches and the uses of white sandwich bread. I will also share about the calories in white bread in 1 slice. Stay with me till the end. Let's start with the recipe.
Recipe for White Sandwich Bread
Ingredients
| | |
| --- | --- |
| Water | 1 cup |
| All-purpose flour | 3 cups |
| Milk | 1/2 cup |
| Water | 1/2 cup |
| Melted Butter | 3-4 tablespoons |
| Sugar | 2 tablespoons |
| Salt | 1 1/4 teaspoons |
| Instant yeast | 2 teaspoons |
| Oil | for greasing (1-2 teaspoons) |
Preparation Time
Total Time
Cooking Time
Servings
Step-By-Step Process for Making White Sandwich Bread
Step #1
Start the process by making the dough. Take a large bowl and add all the ingredients to it. Mix all the ingredients until the dough starts to form. Keep moving for 8-10 minutes and create a proper dough.
Step #2
Take another bowl and grease it with oil. Then, place the dough in the bowl and start kneading. Keep kneading for the next 10 minutes. It will make the dough soft.
Step #3
Place the dough in another greased bowl and wrap the bowl with a plastic wrapper. Leave it for 1-2 hours until the dough becomes double
Step #4
Place the dough on an oiled surface and flatten the dough gently. Shape the dough into an 8-inch log.
Step #5
Put the log in a loaf pan that measures 8 1/2″ by 4 1/2″ and oil it slightly. Let's wait for another 60 minutes until the log starts rising.
Step #6
Preheat the oven, and the preheating temperature should be 350 degrees Fahrenheit. Not more than that.
Step #7
It's time for baking. Bake the bread for the next 30-25 minutes until the bread becomes brown.
Step #8
Check it by inserting a toothpick and see if the batter comes. If nothing comes out, it means the bread is ready. Please remove the bread from the oven and keep it aside to cool it down.
Step #9
Cut the break into slices and enjoy it with your family.
Check out my tea recipe "A cup of hot tea-recipe", perfect for breakfast. Enjoy it with bread for a delightful combination!
Nutritional Information of White Sandwich Bread
Serving size: Per Slice
Calories: 98
Total Fat 1.2g: 2%
Saturated Fat 0.3g 1%
Trans Fat 0g: –
Polyunsaturated Fat 0.6g: –
Monounsaturated Fat 0.2g:-
Cholesterol 0mg :0
Sodium 180mg: 8%
Total Carbohydrates 18g: 7%
Dietary Fiber 1g: 4%
Sugars 2.1g: –
Protein 3.3g
Vitamin D 0 mcg: 0%
Calcium 53 mg: 4%
Iron 1.3mg: 7%
Potassium 46.4mg: 1%
You can also try my delicious bread recipes at home
If you have doubts about how to use leftover bread or how to store bread dough then you can read my blogs about these topics. By following these blogs, you can keep your bread and dough fresh for longer and minimize food waste.
Explore my more other blogs and know-
End Note
In the end, I believe that you have read the entire recipe. Now you know how to make white sandwich bread, and also you know the nutritional information of white sandwich bread. Many famous cooks use this recipe when they bake white sandwich bread. You can bake some delicious sandwiches with your freshly baked white sandwich bread.
Frequently Asked Questions
1. What are the main ingredients of White Sandwich Bread?
The main ingredients of white sandwich bread are wheat flour, water, salt, butter, and yeast.
2. What are the uses of white sandwich bread?
The uses of white sandwich bread are for preparing sandwiches and toast.
3. What are the benefits of White Sandwich Bread?
The benefits of White Sandwich Bread are it provides calcium and other nutrition. You can preserve this bread for a long time which is not possible for different bread.