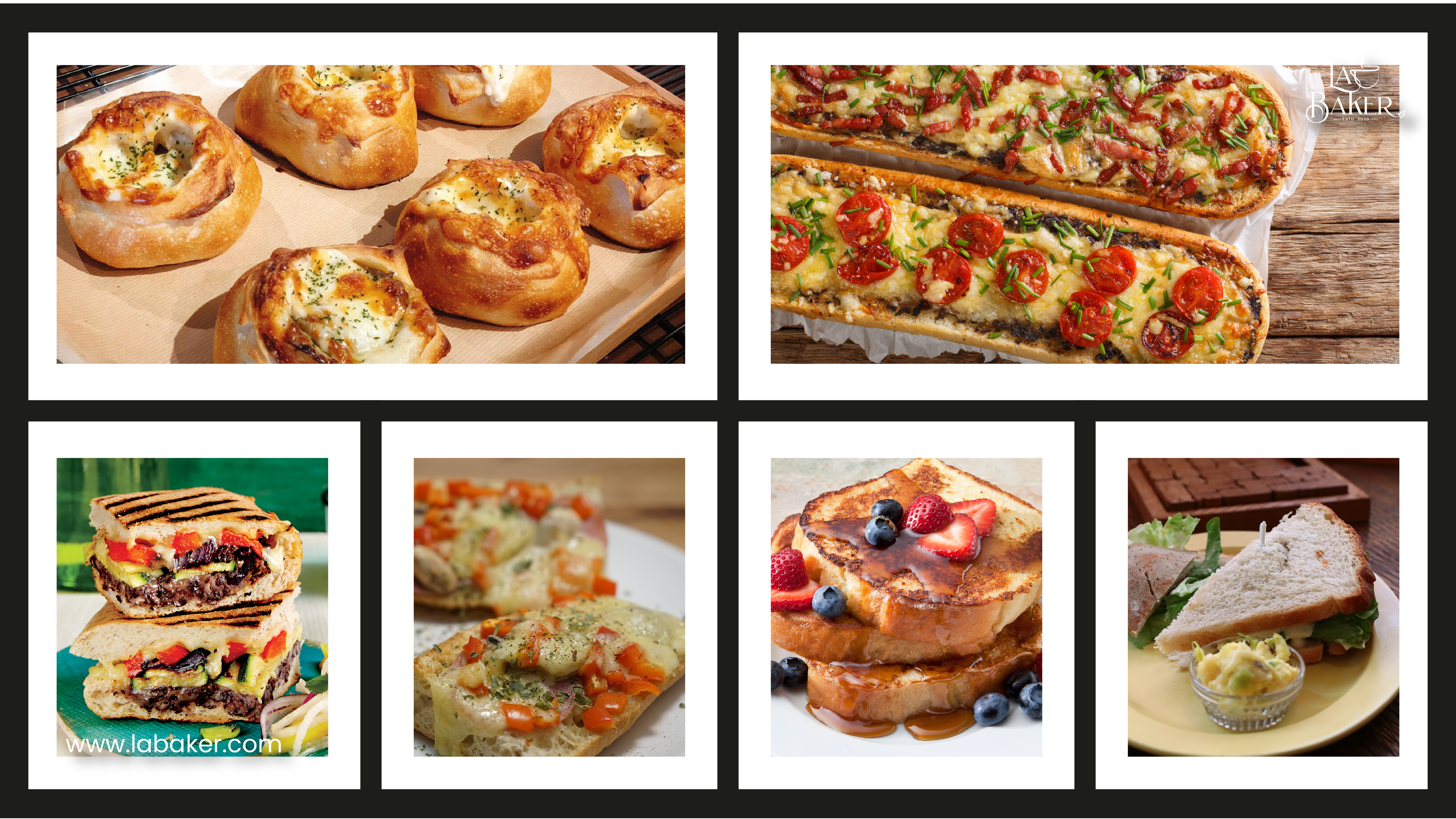 5 Types of Bread Snacks to Make your Breakfast Refreshing
What could be better than warm snack bread? Your dishes may benefit from the fresh, exquisite flavor of soft, delectable cheese bread, cinnamon rolls, coconut bun, cream buns, donuts, guava cheese bread, halal cheese and ham bread, halal hot dog bread, halal turkey ham bread, pizza bread, etc. You can also snack on them. You can create your own bread however you like, either vegan, dairy-free bread, or with milk and eggs.
If you follow our recipe, your snack bread will be moist and buttery with a flaky, soft crust. With a chewy, slightly crunchy exterior and is tasty and smooth. They can be molded any way you choose and use to make sandwiches of your choice.
Simple Bread Snack with Onions
Ingredients
1 package of dry yeast
1 cup warm water
1 large egg
2 tablespoons olive oil
Dried oregano
Salt
All-purpose flour
Topping:
Thinly sliced onion
Olive oil
Dried rosemary, crushed
1 teaspoon of salt, optional
To make a simple bread recipe for breakfast, follow this recipe step by step:
Step #1
Dissolve the yeast in the warm water in a large dish. Add 1-1/2 cups flour, the egg, the oregano oil, and the salt. Beat them together.
Step #2
For 10 minutes, cover and allow to rest.
Step #3
Oil-sauteed onion is to be added to a big pan and distributed evenly over the dough. Salt and rosemary can be added if preferred. For about 30 minutes, cover and let the mixture rise at room temperature.
Step #4
It has to be baked for 25 to 30 minutes at 400°C to turn golden.
Step #5
Cut into a few little squares. At room temperature or heated, serve.
Total Time: 55 min.
Prep time: 30 min.
Bake time: 25 min.
Yield: 8 servings
Nutritionals Facts
254 calories
Fat 11g
Saturated fat 2g
Cholesterol 27mg,
Sodium 158mg,
Carbohydrate 32g
Protein 5g
Cheese bread is another snack bread to enjoy. In order to make cheese bread, follow the below instructions:
Ingredients
1/2 stick of unsalted butter
1 to 2 cloves minced garlic
Cheddar cheese
Shredded mozzarella cheese
Green onion (to taste)
Mayonnaise
1 tablespoon sour cream if preferred
1 loaf of French or Italian bread
Procedure:
Step #1
Follow our recipe for loaf bread to turn it into cheese bread. You can use artisan bread, baguette, ciabatta, french bread, white rustic, etc.
Step #2
Preheat the oven and cut the bread of your choice in half lengthwise.
Step #3
Combine butter, olive oil, garlic, salt, and pepper in a mixing bowl.
Step #4
Combine the green onion, cheddar cheese, and mozzarella cheese in a separate, large bowl.
Step #5
Add the sour cream and mayonnaise after mixing. Combine the prepared mixture with the cheese mixture.
Step #6
Over the bread, spread the cheese mixture.
Step #7
The bread should be baked until the cheese is bubbling and browned.
Step #8
Remove from the oven and allow to cool for 5 minutes before handling. Use a bread knife to cut the bread. Serve.
These bread recipes for snacks are straightforward to make and will make your day.
PREP TIME: 15 mins
COOK TIME: 5 mins
TOTAL TIME: 20 mins
YIELD: 20 servings
Nutritional Facts
CALORIES: 166
FAT: 13g
CARBS: 5g
PROTEIN: 7g
Grilled Sandwich (With Veggies)
Ingredients
Vegetables; tomatoes, potatoes, garlic, chilies, coriander, beetroot, etc
Butter
Bread slice
Salt
Pepper
Directions
Step #1
Boil 1 medium beetroot and 2 small to medium potatoes in a steamer to prepare the vegetables.
Step #2
Slice the onions, tomatoes, and cucumbers into thin, circular slices.
Step #3
Take 1 cup firmly packed coriander leaves, 1/2 teaspoon cumin powder, 1 teaspoon finely chopped green chilies, and 1 to 2 finely chopped garlic cloves and combine them in a grinder jar to produce the chutney. When necessary, add 1/2 to 3/4 teaspoons of lemon juice, 1/4 teaspoon of black salt, and white salt or rock salt.
Step #4
The chutney components should be well-ground. To maintain consistency, add water.
Step #5
Spread butter on the top of the bread slice of your choosing before layering rounds of potato on one piece. Add a little amount of your preferred spice or cumin powder.
Step #6
Top with pieces of tomato, onion, cucumber, and beet.
Step #7
Add your second slice of bread on top, chutney side down. On the outer layer of the top bread slice, apply a thin coating of butter.
Step #8
Fire up the grill. When the sandwich is heated, turn it over so the butter side is facing up. The bread that is currently on top should be buttered.
Step #9
Grill for two to three minutes, or until golden and crispy, with the lid closed.
Prep Time: 40 min.
Cook Time: 10 min.
Total: 50 min.
Nutrition Facts
Calories 229
Fat 9g 14%
Saturated Fat 5g 31%
Trans Fat 1g
Cholesterol 18mg 6%
Sodium 660mg 29%
Potassium 307mg 9%
Carbohydrates 32g 11%
Fiber 3g 13%
Sugar 6g 7%
Protein 6g 12%
Bread Pizza
Direction
Step #1
To prepare the sauce, combine 1 tablespoon oil with 2 to 3 cloves of minced garlic and cook for 30 to 60 seconds, or until the garlic is fragrant. Saute till golden one tiny chopped onion. Add 14 to 12 teaspoons of red chili flakes after that.
Step #2
20-second sauté
Step #3
Add 3 medium tomatoes, either pureed or finely diced.
Step #4
Combine 1/4 teaspoon each of salt and sugar.
Step #5
Cook the tomatoes over medium heat until they get thick.
Step #6
Add ½-4 teaspoons of mixed Italian herbs and 1/4 teaspoon of freshly ground black pepper after that.
Step #7
Mix well, then taste. Await cooling
Step #8
You may spread the sauce as widely as you like. Your choice of vegetables should go first, followed by a layer of cheese.
Step #9
For 8 minutes at 220 C, bake or grill the food until browned.
Prep: 5 mins
Cook: 10 mins
Total: 15 mins
Nutrition Facts
Calories 152
Fat 5g 8%
Saturated Fat 3g 19%
Cholesterol 14mg 5%
Sodium 276mg 12%
Potassium 169mg 5%
Carbohydrates 180 6%
French Toast
Ingredients
1 teaspoon of cinnamon powder
1/4 teaspoon of nutmeg, ground
Two teaspoons of sugar
Butter, 4 tablespoons
4 eggs
14 cups of milk
One-half teaspoon of vanilla extract
8 pieces of brioche, challah, or white bread
12 cups warmed maple syrup
Directions
Step #1
Combine sugar, cinnamon, and nutmeg in a small bowl and put aside for a moment.
Step #2
Melt butter in a 10- or 12-inch pan over medium heat. Pour the combination of milk, eggs, vanilla, and cinnamon into a pie plate or other shallow dish.
Step #3
bread into the egg mixture. Cook slices on one side until golden brown, then turn to finish.
Step #4
Add syrup to the dish and enjoy.
Total: 30 min
Prep: 20 min
Cook: 10 min
Yield: 4 servings
Nutrition Facts (per serving)
240 Calories
6g Fat
34g Carbs
11g Protein
Read also my other delicious bread recipes such as-
Want to upgrade your burger or sandwich? Try these tasty bread options!
If you have doubts about how to use leftover bread or how to store bread dough then you can read my blogs about these topics. By following these blogs, you can keep your bread and dough fresh for longer and minimize food waste.
Explore my more other blogs and know-
Conclusion
After gathering the ingredients, make these tasty and easy snack bread to serve yourself or your guests.
Frequently Asked Questions
1. What is healthy to eat with bread?
Healthy options to eat with bread include vegetables (e.g. lettuce, tomato, cucumber), lean protein (e.g. turkey, chicken breast, tofu), and spreads (e.g. hummus, avocado, nut butter).
2. What are 5 useful snack tips?
Choose whole foods: opt for snacks made from minimally processed whole foods like fruits, vegetables, nuts, and seeds.
Prioritize protein: protein-rich snacks can help you feel full for longer, so consider options like hard-boiled eggs, Greek yogurt, or edamame.
Watch portion sizes: keep portion sizes in check to avoid consuming too many calories in one sitting.
Plan ahead: prepare healthy snacks in advance, such as pre-cut veggies, to make it easier to grab a nutritious snack on the go.
3. How many slices of bread a day is OK?
The appropriate number of bread slices per day varies depending on factors like individual nutritional needs and activity level. As a general guideline, consuming 1-2 slices of whole-grain bread per day can be part of a healthy diet for most people.