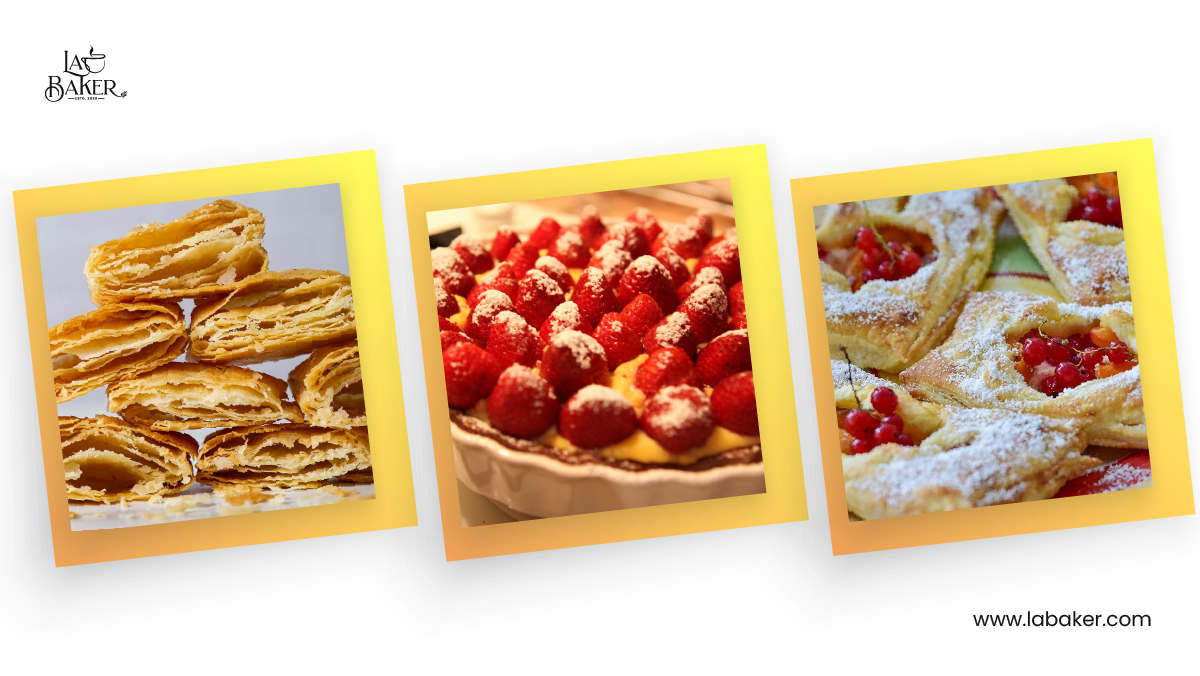 3 Different Types of Pastry
If you are a sweet tooth like me, you must have a special love for pastries. These irresistible, little tasty treats can bring a sunny bright smile to the lips of the lovers of this delicious snack. This sweet delight doesn't need any definition or introduction because whether you're a sweet tooth or not, you'll hardly find a person who hasn't heard of these pastries. But do you know about their types? Let's learn about it.
There are many types of pastries made from different dough. Three popular kinds are:
Flaky Pastry
There are many types of pastries. One popular kind is Croissants. They are French and Spanish delicacies. Croissants have a texture that can practically be ripped apart, are golden, buttery, crisp, and flaky on the exterior, and soft and sensitive on the inside.
If you follow our recipe for making croissants, you will get the same feeling as if they were sitting in a French boulangerie. The time, delicacy, and effort required to make flaky, buttery croissant bread are really worth it.
Ingredients
All-purpose flour, 4 cups
4 tablespoons of dry active yeast
Cold, unsalted butter, 1 1/4 cups
One egg (1 large egg beaten with a teaspoon or two of water)
Procedure
Step #1
Mix the flour, sugar, yeast, and salt in a large bowl until well incorporated.
Step #2
Cut the butter into slices that are 1/8 inch thick, and then coat each piece with the flour mixture.
Step #3
As you continue to whisk, add the milk until a firm dough forms.
Step #4
Securely cover the dough in plastic wrap and refrigerate for an hour.
Step #5
On a lightly dusted surface, form the dough into a long rectangle.
Step #6
Squeeze out the air by placing the dough on a surface that has been lightly dusted with flour. Cut into 12 equal pieces. Roll out one dough piece into a rectangle of dough into a rectangle that is around 6 x 10 inches in size. Spread a good quantity of butter evenly over the dough. Roll out the second piece of dough and place it on top of the first. Spread a layer of butter again. Layer the dough again before finishing with a layer of dough.
Step #7
Wrap firmly and refrigerate for an additional hour or overnight to reach room temperature. The dough should be divided in half and each piece rolled out into a long rectangle with a thickness of about 1/8 inch.
Step #8
Each triangle should have a 1/2-inch notch cut out of the broad end. Next, wrap each triangle into a crescent shape from the wide end to the pointed end, tucking the tip beneath the croissant. Place the croissant on a baking sheet coated with parchment paper. Repeat with the remaining dough.
Step #9
Brush the croissants with egg wash after preheating the oven to 190°C.
Step #10
Puffed, golden brown, and flaky results after baking for 15 to 20 minutes.
You can fill croissants with a variety of sweet or savory ingredients. Almonds, chocolate, and regular croissants are used in traditional sweet-filled pastries. You may also build a croissant sandwich with cheese, spinach, or ham.
Prep time – 40 minutes.
Cook time – 20 minutes.
Resting time – 4 hours.
Total time – 5 hours.
Servings – 12.
Nutritional Facts
Shortcrust Pastry
To make the simple lavender shortbread cookies, follow our directions
Ingredients
A quarter cup of white sugar
Lavender, two tablespoons
2 cups of all-purpose flour
Direction
Step #1
Set the oven to 120 °C.
Step #2
Blend the white sugar, powdered sugar, and lavender for 45 to 60 seconds in a food processor.
Step #3
Place the sugar that has been infused with lavender in an electric mixer.
Step #4
When the sugar and butter are blended, add the butter.
Step #5
Continue blending after adding the flour and salt.
Step #6
The dough should be stretched out and shaped into a sizable, 1/2-inch-thick rectangle.
Step #7
Refrigerate the dough for at least 30 minutes with plastic wrap covering it.
Step #8
Roll the dough into a thick sheet after removing it.
Step #9
Shape the dough into cookies using a sharp knife, then arrange them on a baking sheet.
Step #10
Bake the baking sheets for 25 to 30 minutes, or until the edges of the cookies are golden brown.
Step #11
Refrigerate for up to 5 days.
Prep time- 40 minutes
Bake Time- 30 minutes
Total Time-70 minutes
Servings-12
Nutritional Facts
Puff Pastry
A laminated dough created by alternately layering butter and dough is used to make puff pastry, which is a delicate and flaky pastry.
Ingredients
Step #1
Add part of the butter cubes and the flour to the food processor.
Step #2
Pulse just enough to incorporate the butter into the dough. Just a few more pulses are performed after adding the remaining butter.
Step #3
Once the dough begins to come together into a ball, add the cold water and pulse a few more times. Add five additional pulses.
Step #4
Move the dough to a lightly dusted surface.
Step #5
Maintain a small dusting of flour on your work area at all times, and carefully roll it into a compact ball.
Step #6
Flour your rolling pin lightly and use it to roll the dough into a rectangle.
Step #7
Fold it several times in an envelope before wrapping it in plastic wrap.
Step #8
Set it aside for an hour or two to cool.
You can use either the savory or sweet filling of your choice. For the savory filling, you can add chicken, ham, cheese, sauce, etc before letting the dough bake. For the sweet filling, you can use your favorite fruits; apples, peaches, strawberries, etc. after making a puree of them.
Prep Time-10 minutes
Cook Time –20 minutes
Chilling Time –1 hour
Total Time –30 minutes
Servings-12
Read more of my other blogs:
I have also delicious side dishes recipes including-
You can also try my delicious cake recipes at home
Conclusion
Pastries are complex dishes to make but baking them is very satisfying and fulfilling. If you love being a baker or love baked products, follow our straightforward instructions to make it from scratch and enjoy the delicacy of Europe.
Frequently Asked Questions
1. What kind of desserts are pastries?
Pies, tarts, donuts, croissants, danishes, and scones are a few typical examples.
2. Is pastry dough the same as dough for croissants?
Dough that has been laminated forms croissants. While croissant dough contains yeast, puff pastry does not.
3. What can you stuff inside a croissant?
You can fill croissants with a variety of sweet or savory ingredients. Almonds, chocolate, and regular croissants are used in traditional sweet-filled pastries.
4. How many layers should a croissant have?
55 layers
5. The ideal butter for croissants is?
High-fat, high-quality butter without additional water or additives.