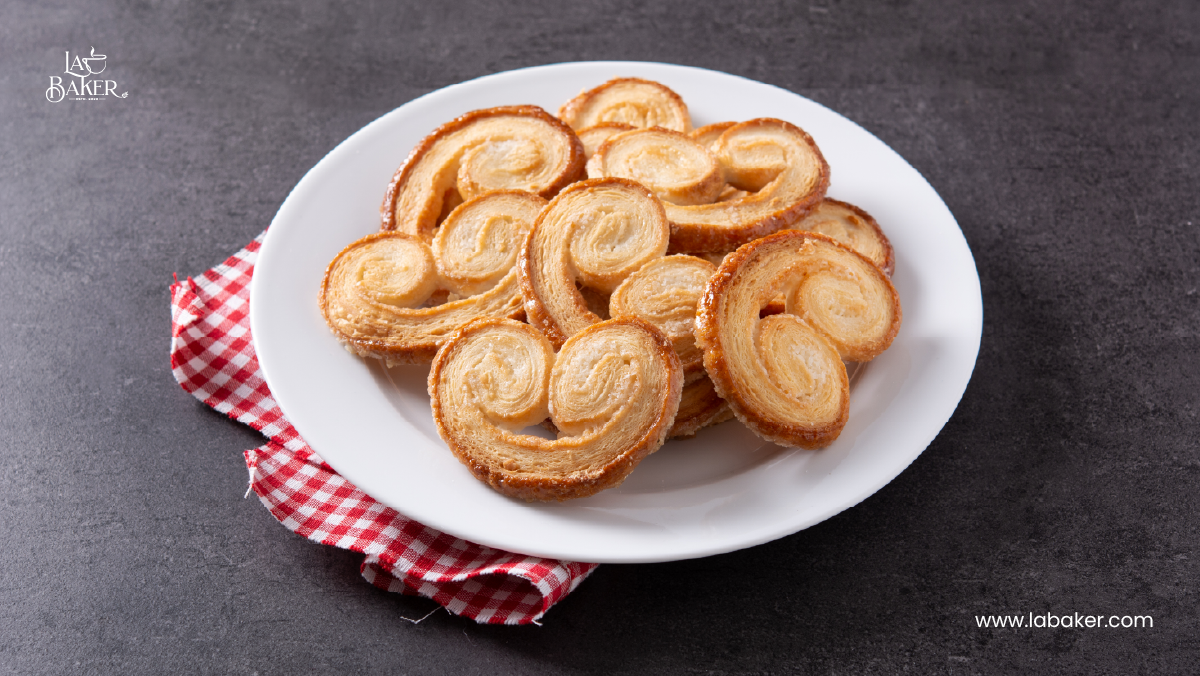 How to Make a Palmier Pa...
People enjoy pastries, and Palmier pastry is one of them. When you follow a recipe, preparing Palmier pastry from scratch is simple and enjoyable. But getting a good recipe is quite tricky. You will find thousands of recipes online that are not easy to follow. So, if you want a good easy recipe for Parmer pastry, you will get it here.
In this article, I will share how to make the palmier pastry. You will get some other information like palmier ingredients, palmier nutritional information, and how many calories are in palmier pastry. Follow me through to the end to learn the recipe.
Recipe for Palmier Pastry
Ingredients
1 sheet of puff pastry
1/2 cup granulated sugar
1 teaspoon ground cinnamon
1/4 teaspoon salt
1 egg, beaten
Preparation time
Cooking Time
Servings
Step-by-Step Guide on Making Palmier Pastry
Step #1
In a small bowl, add the sugar, cinnamon, and salt and mix them well.
Step #2
Take a large plate and spread some flour on it. Roll out the puff pastry into a rectangle about 1/8 inch thick.
Step #3
Leave a thin border around the corners of the puff pastry and evenly spread half of the sugar mixture over it.
Step #4
Start rolling the pastry tightly from one long end and stop at the center.
Step #5
Keep rolling until you reach the center with the other long end.
Step #6
Cut the rolled pastry crosswise into 1/4-inch slices.
Step #7
Coat both sides of each slice with the remaining sugar mixture after dipping it into the beaten egg.
Step #8
Arrange the palmier slices on the prepared baking sheet, spacing them apart by about 1 inch.
Step #9
Prepare your oven for baking by preheating it to 375°F (190°C).
Step #10
We are almost at the end of this recipe. It's time for baking. So, bake the palmier pasties for 20-25 minutes until they turn golden brown.
Step #11
Take the dish out of the oven and let it cool before serving.
Step #12
Enjoy freshly baked palmier pastries with your family.
Nutritional Value of Palmier Pastry
Amount: Per 3 Palmiers Pastries
Total Carbs: 16g
Net Carbs: 16g
Fat: 7.5g
Protein: 1.3g
Calories: 135
Try my other delicious recipe like and flaky pastry such as-
You can read also my sweet cake recipe
Final Thought
Finally, I believe that you have gone through the entire recipe. Now, you know how to make Palmier pastry. This recipe is one of the easiest recipes, and many chefs follow this recipe when they make Palmier pastry. Try this recipe today to make some delicious Palmier pastries and enjoy them with your family.
Frequently Asked Question
1. How to store Palmier Pastry?
Use an airtight container to store your Palmier pastry. Wrap the pasties with foil paper and keep them inside the airtight container at room temperature.
2. Can I freeze Palmier pastry?
Yes, you can preserve it for 2-3 days. But you can't have it frozen.
3. Can I eat Palmier pastry hot or frozen?
You can eat a warm Palmier pastry by heating it for 1-2 minutes in the oven. But if you have this frozen, you won't get the proper taste of the pastry. So, eating it a little warm is the best way.