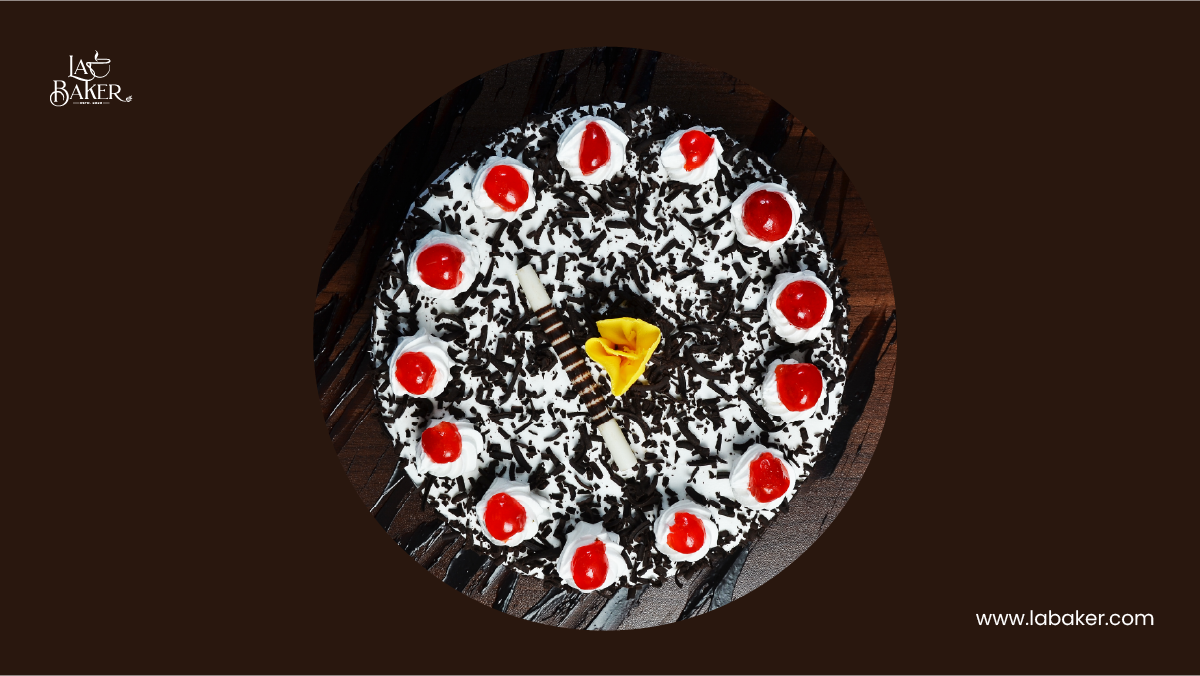 Let's Get The Black Fore...
Black Forest cake is a popular dessert given at celebratory events like weddings and birthdays all across the world. It is difficult to find a person who doesn't like black forest cake. This cake is better than cheesecake, Gainduja cake, mango lassi cake, and red velvet. People struggle when they have to make black forest cake especially when they have to choose the ingredients for black forest cake and also the black forest cake decorations. They always want to get the best recipe for black forest cake.
Are you one of them? If yes, then this article is for you! Here I will share the black forest cake recipe. I will also share how to make cherry syrup for cake, black forest syrup recipe, black forest cake topping, black forest cake frosting,
decorating ideas for black forest cake and also tips for making black forest cake. Stay with me till the end to learn these facts.
What Is Black Forest Cake?
A black forest cake is a German Dessert that has several layers of sponge chocolate cake. In every layer of this cake, you will get whipped cream and cherries frosting. The main ingredients of this cake are cocoa powder, vanilla extract, flour, sugar, whipped cream, cherry-filling eggs, and butter.
The entire cake is covered with whipped cream and the the top is decorated with cherries. One can also decorate the cake top with chocolate shavings and more cherries. A black forest cake looks very appealing and super tasty. Kids and adults both love black forest cake.
Recipe for Black Forest Cake
Ingredients
For the Cake
2 ⅛ cups all-purpose flour
2 cups white sugar
¾ cup unsweetened cocoa powder
1 ½ teaspoons baking powder
¾ teaspoon baking soda
¾ teaspoon salt
3 eggs
1 cup milk
½ cup vegetable oil
1 tablespoon vanilla extract
For The Topping
2 cups cherry pie filling
1 cup white sugar
¼ cup cornstarch
1 teaspoon vanilla extract
For The Frosting
3 cups heavy whipping cream
⅓ cup confectioners' sugar
Equipment
1 medium bowl
1 large bowl
1 Hand blender
Preparation Time
Cooking Time
Servings
Step-by-Step guide on Making Black Forest Cake
Step #1
Set the oven's temperature to 350°F (180°C). Prepare two 9-inch (23 cm) cake pans with butter and flour.
Step #2
Take a medium bowl and mix the flour, cocoa powder, baking powder, baking soda, and salt .
Step #3
Take another large bowl, add butter to the bowl. Then, beat the butter with a hand blender. and add sugar to the mixture. Keep blending for two to three minutes until the mixture becomes light and fluffy.
Step #4
Add one egg to the prepared mixture and beat, one at a time. One by one add two eggs and continue the process. Add vanilla extract in the mixture after adding eggs.
Step #5
Add the remaining dry ingredients to the mixture and give a good mix.
Step #6
Evenly pour the batter between the two preheated pans, and bake for 25 to 30 minutes, or until a toothpick inserted in the center comes out clean.
Step #7
Take out the cake from the oven and cool it down for the next 10 minutes.
Step #8
It is time for decoration. After the cakes have cooled, level their tops with a serrated knife.
Step #9
Cover the top layer of the cake with cherry pie filling. If you want to make the frosting thin, then add 1 tablespoon sugar and 1 cup water to the cherry pie filling and give a mix until the sugar dissolves in the mixture. Then lover the top layer with the cherry syrup. Now you know how to make cherry syrup for cake.
Step #10
Create peaks by whipping the heavy cream, sugar, and vanilla extract. Over the cherry filling, dot the remaining half of the whipped cream.
Step #11
Top the whipped cream layer with the second cake layer. Cover the cake's top and sides with the remaining whipped cream.
Step #12
Add chocolate curls or shavings to the cake's decoration.
Step #13
Your cake is ready! Enjoy it fresh with your family.
Nutrition Facts of Black Forest Cake
Per serving
Calories: 662
Total Fat 34g: 43%
Saturated Fat 16g: 80%
Cholesterol 130 my: 43%
Sodium 342mg: 15%
Total Carbohydrate 87g: 32%
Dietary Fiber 3g: 12%
Total Sugars 62g: –
Protein 8g: –
Vitamin C 2mg: 12%
Calcium 124 my: 10%
Iron 3mg: 19%
Potassium 292mg: 6%
My delicious cake recipes –
Final Thought
In the end, I believe that you know how to make a delicious black forest cake. Here, I have shared How to use the cherry filling for frosting and decoration. You can use these ideas to decorate your cake. When the cake's decoration is good, it looks soothing. So, try this recipe today and enjoy the cake with your family.
Frequently Asked Questions
1. What can be used for a black forest cake's filling?
You can use cherry filling as a black forest cake filling. It gives a sweet and tangy taste to the cake.
2. What icing should I use for a black forest cake?
You can use whipped cream icing for a black forest cake. Use the proper amount of whipped cream as icing for your cake to get the best taste.
3. What smell does Black Forest cake have?
The smell of the black forest cake is very rich, creamy, and chocolaty. Like the smell, the taste of a black forest cake is also super creamy.