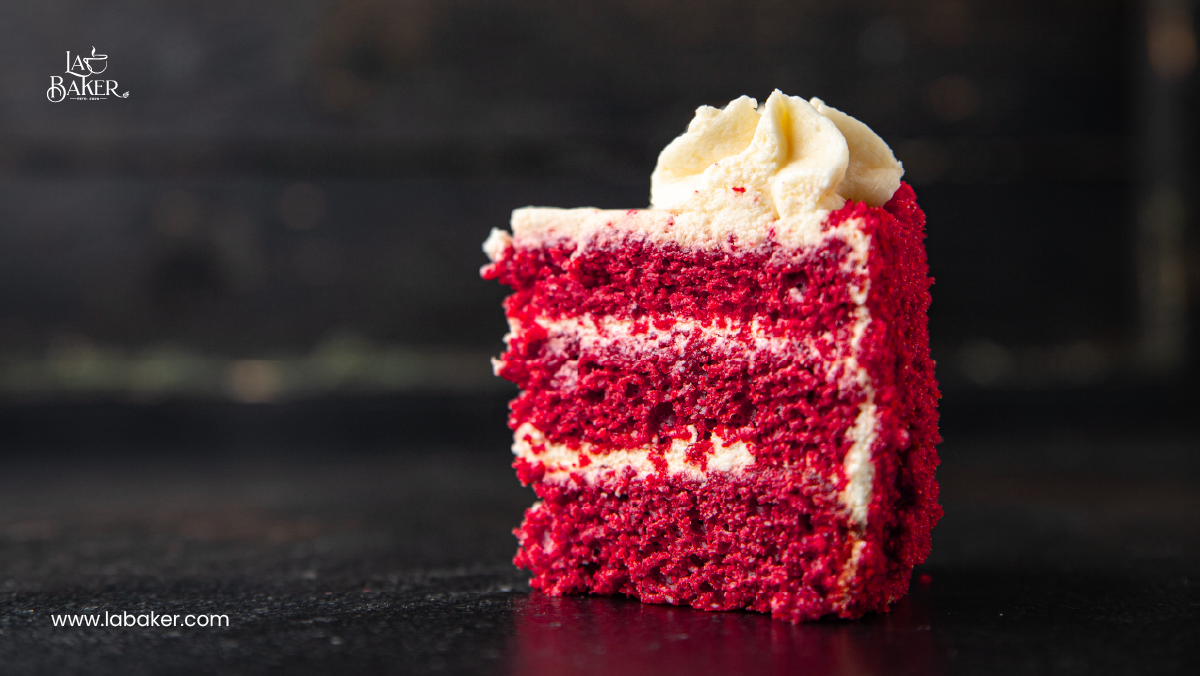 Find The Super Moist Red Velvet Cake Recipe Here!
Softness and richness are important for red velvet cake. If the cake becomes hard, then you won't get the best taste. How to make the cake soft and rich? To do that you must follow a proper recipe. Are you looking for the best red velvet cake recipe? If yes then this article is for you.
Here, I will share the step-by-step process of making a red velvet cake. You will get here some additional information about red velvet cake. Stay with me to learn the process of making red velvet cake and don't miss the FAQ section
Red Velvet Cake Recipe
Ingredients for Red Velvet Cake
For The Cake
2 1/2 cups all-purpose flour
1 1/2 cups granulated sugar
1 teaspoon baking powder
1 teaspoon baking soda
1 teaspoon salt
1 teaspoon cocoa powder
1 1/2 cups vegetable oil
1 cup buttermilk
2 large eggs
1 tablespoon red food coloring
1 teaspoon vanilla extract
1 teaspoon white vinegar
For the Cream Cheese Frosting
1 (8-ounce) package of cream cheese, softened
1/2 cup unsalted butter softened
4 cups powdered sugar
1 teaspoon vanilla extract
Preparation Time
Cooking Time
Servings
Step-by-Step Process for Making Red Velvet Cake
Step #1
Set the oven first by preheating it to 350°F (175°C). Grease and flour two 9-inch cake pans for baking later.
Step #2
Take a large mixing bowl and add flour, sugar, baking powder, baking soda, salt, and cocoa powder. Mix them well.
Step #3
Take another mixing bowl and add together oil, buttermilk, eggs, red food coloring, vanilla extract, and white vinegar. After adding all the wet ingredients, mix them well.
Step #4
Gradually add the wet ingredients to the dry ingredients. Continuously keep stirring until well mixed.
Step #5
Pour the batter evenly into the prepared greased cake pans. Bake for 25-30 minutes and check if the cake is ready or not. Insert the toothpick in the center of the cake and if nothing comes out means the cake is ready. Or if the cake's batter comes out, bake it for another 6-8 minutes.
Step #6
Take out the cake from the oven and let it cool in the pan for 5 minutes before transferring it to a wire rack to cool completely.
Step #7
For the cream cheese frosting, beat cream cheese and butter in a large mixing bowl until smooth and creamy. Add powdered sugar and vanilla extract and beat until fluffy.
Step #8
Spread a layer of cream cheese frosting over the top of one of the cake layers when the cake has completely cooled. Pour the remaining frosting over the top and sides of the cake before adding the second layer.
Step #9
Serve and enjoy your delicious and moist red velvet cake with your family!
Nutritional Information of Red Velvet Cake
Per 1 slice
Calories 368.
Total Fat 23g: 29%
Saturated Fat 14g: 70%
Trans Fat 0.3g.
Polyunsaturated Fat 1g.
Monounsaturated Fat 6.3g.
Cholesterol 93mg: 31%
Sodium 318mg: 14%
You will also like
Read also,
End Note
Finally, you now know how to make red velvet cake. This recipe is very easy to follow and you will get the expected outcome. The taste of red velvet cake is delicious. Believe me! Your family members will love this cake. So, try this recipe today and make delicious red velvet cake.
Frequently Asked Questions
1. Which ingredient is crucial for a red velvet cake?
Every ingredient is essential to make red velvet cake. But the crucial ingredient for a red velvet cake is buttermilk.
2. What makes red velvet cake flavor?
Buttermilk, vinegar, cocoa powder, and cream cheese filling make the red velvet cake flavor.
3. What makes traditional red velvet cake red?
A chemical reaction takes place between the cocoa and acid which makes traditional red velvet cake red.
4. Can you bake red velvet cake without vinegar?
Yes, you can. But, the texture of the cake won't be that smooth. Even you will feel a difference in the taste.
5. Can I use baking powder in the red velvet cake?
Yes, you can. It gives a softness to red velvet cake.