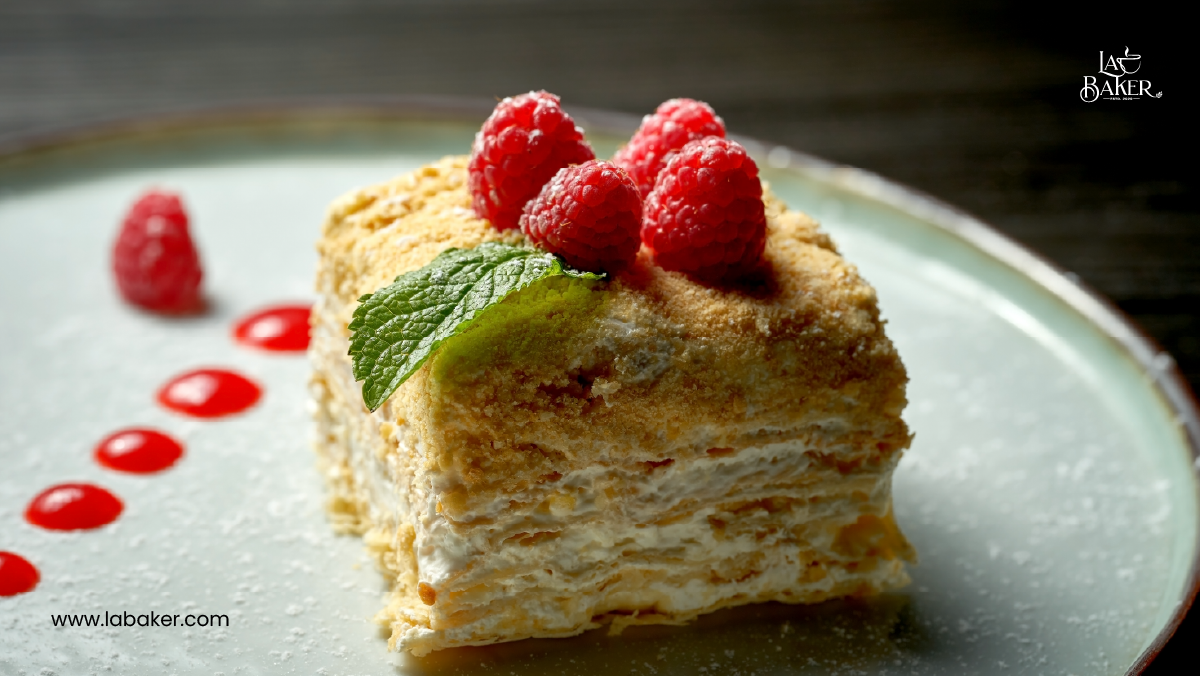 Enjoy Every Layer of Mille Feuille: Try This Recipe
Kids and adults both love cake. Mille Feuille cake, a French dessert, is one of the most popular cakes that everyone loves. Making them is also quite fun but you must follow a recipe. Are you looking for a recipe to make Mille feuille cake? If yes then this article is for you!
Here, I will share how to make mille-feuille cake. You will also learn here how to make mille feuille dough, millefeuilles nutritional information, and how to make mille feuille cream. Stay with me till the end to learn the recipe.
Recipe for Making Mille Feullie Cake
Ingredients
2 sheets of puff pastry
2 cups of whole milk
4 egg yolks
1/2 cup of sugar
1/4 cup of cornstarch
1 tablespoon of vanilla extract
Powdered sugar for dusting
Preparation Time
Cooking Time
Servings
Step-by-Step Process to Make Mille Feuille Cake
Step #1
Set your oven to 400°F (200°C).
Step #2
Roll each sheet of puff pastry to about 1/8 inch thick. Cut each sheet into three equal rectangles. Place the rectangles on a baking tray lined with baking paper. Poke holes in the pastry with a fork so that it does not rise too much during baking.
Step #3
Bake the dough for about 15-20 minutes or until golden brown and has risen. When it's ready, take it out of the oven and let it cool completely.
Step #4
While the dough is baking, prepare the pastry cream. In a medium saucepan, heat the milk over medium heat until it begins to boil.
Step #5
Take a separate bowl, and add egg yolks, sugar, and cornstarch. Mix them well until the mixture becomes smooth.
Step #6
Slowly pour the hot milk into the egg yolk mixture. Keep stirring continuously to prevent the eggs from curdling.
Step #7
Pour the mixture back into the saucepan and heat over medium heat. Don't stop stirring. Continue stirring until it thickens and comes to a boil. Remove from heat and stir in the vanilla extract.
Step #8
Shift the pastry cream to a mixing bowl and cover the surface with plastic wrap to prevent it from forming. Let it cool to room temperature.
Step #9
Once the pastry cream has cooled, assemble the mill-feuille. Place one rectangle of puff pastry on a plate or serving dish. Spread a layer of pastry cream over the top, then place another rectangle of puff pastry on top.
Step #10
Repeat with another layer of pastry cream and puff pastry until you have used all the pastry and cream, ending with a layer of puff pastry on top.
Step #11
Keep the serving place with the cake in the refrigerator and cool it down for at least 2 hours. It helps to set the pastry cream.
Step #12
Before serving, sprinkle the top of the mille-feuille cake with powdered sugar. Cut with a sharp knife and enjoy a round of deliciousness!
Nutrition facts about Mille Feuille Cake
Amount per serving
Servings: 8
Calories: 828
Total Fat 41g: 52%
Saturated Fat 9g: 46%
Cholesterol 60mg: 20%
Sodium 445 mg: 19%
Total Carbohydrate 104g: 38%
Dietary Fiber 3g: 11%
Total Sugars 53g
Protein 12g
Other yummy cake recipes are below
Read Also,
Try my other recipes
End Note
Finally, you can simply follow these easy steps to make mille-feuille cake. This is a layer-based cake so be careful while preparing the layer. The cake's taste is really good and everyone loves this cake. So, try this recipe today and make mille feuille cake today!
Frequently Asked Questions
1. How many layers does Mille Feuille cake have?
Traditional Mille Feuille cake has three layers.
2. Can I refrigerate Mille Feuille cake?
Yes, you can. You can refrigerate it for 2-3 days.
3. How to preserve Mille Feuille cake?
Put the cakes in an airtight container and place them in the fridge to preserve them properly. In this way, you can preserve the cakes for up to 3 days.