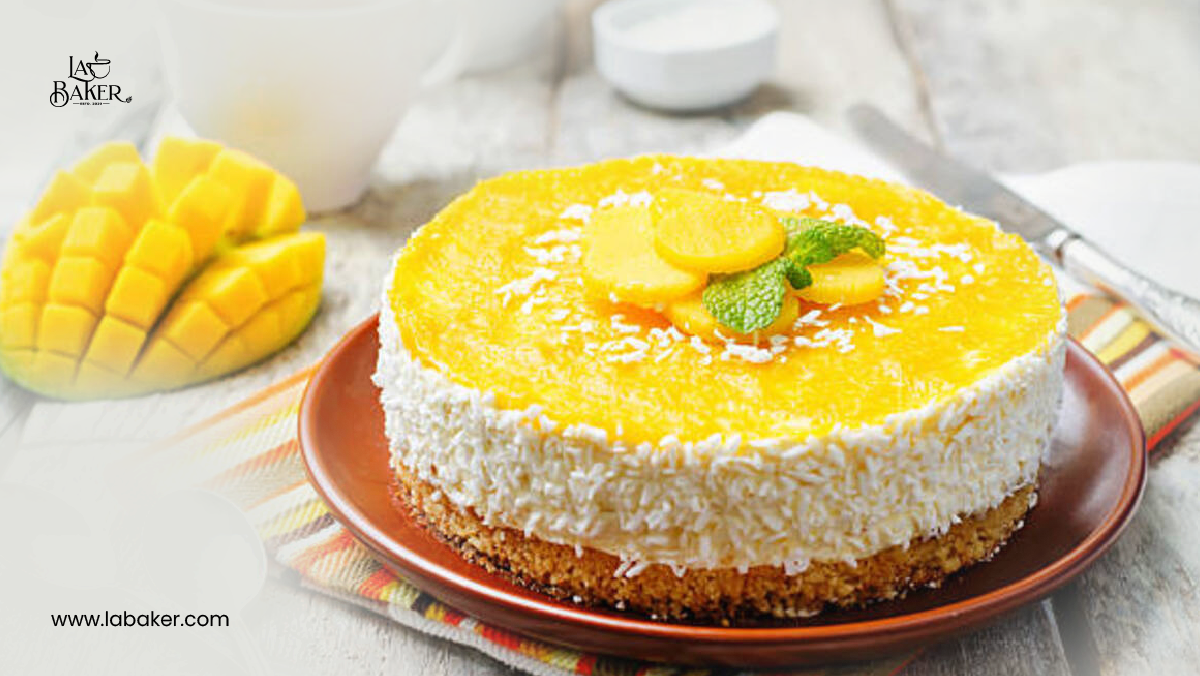 How to Make Mango Lassi Cake?
Experiments in cooking help you to invent a dish. One of the famous new cakes is mango lassi cake. It is a fusion of lassi and cake, which creates a new type of cake. Mango Lassi cake is in trend now, and people love to have it as dessert. You can have this cake as a single-serving cake or pastry.
Do you want to make mango lassi cake? Then you have come to the right place. Here, I will share the easiest recipe to bake mango lassi cake. This recipe and tips for making mango cake will help you to get the perfect softness and taste. So let's start the recipe with the ingredients of this cake.
Explore my blog post on the topic 'How Long Can You Freeze Cake Batter'!
Recipe for Making Mango Lassi Cake
Ingredients for Mango Lassi Cake
| | |
| --- | --- |
| Mango Lassi | 1 and 1/2 cups |
| Flour | 2 cups |
| Eggs | 3 |
| Butter | 2 teaspoon |
| Oil | 1/2 cup |
| Sugar | 1/4 cup |
| Baking Powder | 1 teaspoon |
| Cardamom powder | 1/4 teaspoon |
Equipment for Cake
Cake Tin
One Medium Bowl
Measuring cups and spoon
Saucepan
Ingredients for Mango Glaze or Mango Filling for Cake
| | |
| --- | --- |
| Mango puree | 1 cup |
| Cornstarch | 1 tablespoon |
| Sugar | 1 tablespoon |
| Cardamom powder | 1/4 teaspoon |
Ingredients for Decoration
Cooking time
Preparation Time
It will take 8-10 minutes to take all the ingredients together.
Mixing Time
Mixing all ingredients to prepare the batter will take 10-15 minutes.
Servings
Step-by-step process of making Mango Lassi Cake and Mango Glaze for The Cake
Step #1
Take a bowl to put all the ingredients in it.
Step #2
Then put all the dry ingredients: flour, sugar, baking powder, cardamom powder, and butter in the bowl.
Step #3
Then add wet ingredients, oil, and mango lassi to it.
Step #4
Mix them all and prepare the cake batter.
Step #5
Put the batter in the cake tin to bake.
Step #6
Bake for about 35 minutes in an oven until a toothpick inserted in the center of the dish comes out clean.
Step #7
Take out the cake from the micro oven and cool it down completely.
For Mango Glaze
Step #1
Take a bowl and put mango puree, cornstarch, sugar, and cardamom powder.
Step #2
Mix them
Step #3
Heat Mango and cornstarch in a saucepan and cook until it becomes thick.
Step #4
After taking it off the heat, strain it through a sieve.
Step #5
Pour cooled liquid over the cake. Add mango slices to the cake as decorations.
Nutritional Facts of Mango Lassi Cake
| | |
| --- | --- |
| Serving | 2 slices |
| Calories | 327 kcal |
| Carbohydrates | 49.7g |
| Protein | 5g |
| Fat | 13g |
| Saturated Fat | 1.2g |
| Cholesterol | 2mg |
| Sodium | 343mg |
| Potassium | 337mg |
| Fiber | 1.6g |
| Sugar | 24.3g |
| Calcium | 130mg |
| Iron | 2mg |
My other cake recipes
Read Also
End Note
Finally, l believe you followed the recipe exactly as I shared. My shared recipe is very easy, and give it a try at home. Many famous chefs use this recipe. Your homemade mango lassi cake will be a hit with all of your family members. I promise that your cake will taste delicious. Follow my recipe and make your mango lassi cake right now!
Frequently Asked Questions
1. How long does mango lassi cake stay fresh in the fridge?
If you keep your mango lassi cake in an airtight container, this cake will keep for up to three days in the refrigerator.
2. What ingredients does mango lassi have?
Mango Lassi is a delicious drink with fresh yogurt or curd, milk, juicy mango slices, and a touch of cinnamon.
3. How does Mango Lassi Cake taste?
Mango lassi cake is super delicious. Adults and kids love this cake. You can have this as dessert after your dinner or lunch.