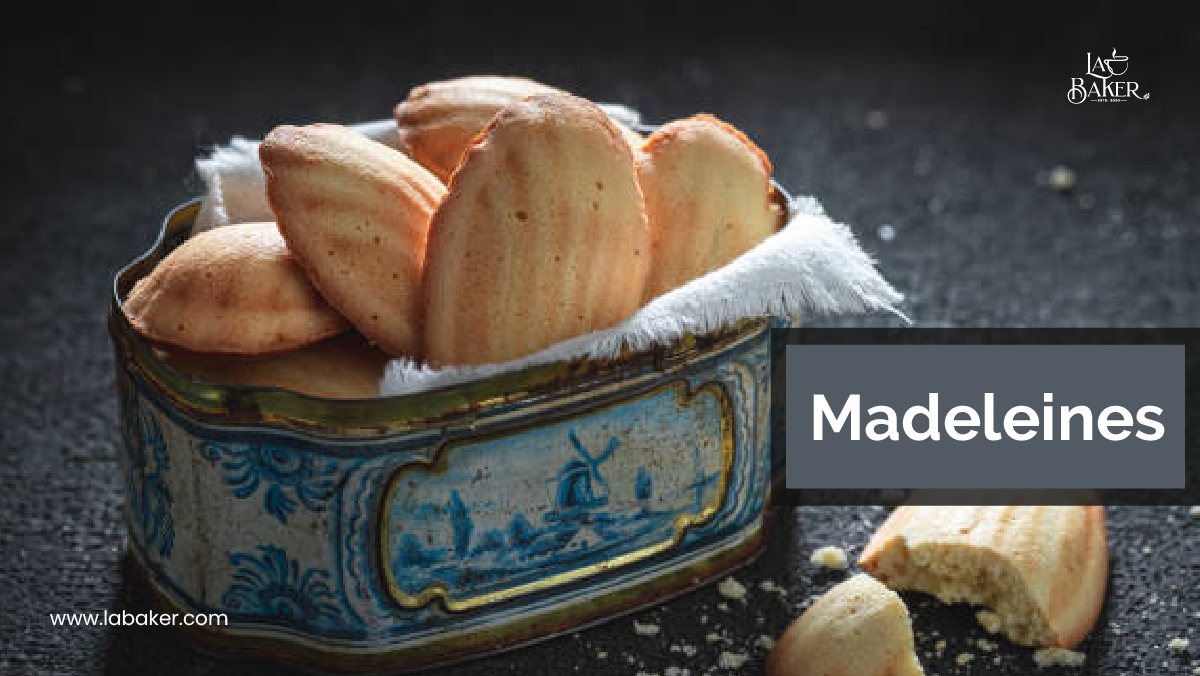 Madeleine's Recipe-Small Cake-like Cookie
All the brownie and cookie lovers out there must be familiar with most of their types such as biscotti, brownie, chocolate chip cookie, double fudge cookie, macaroon, oatmeal raisin cookie, sugar cookie, and madeleines. Among all these, madeleines take a special place among my favorite treats. Does your list of favorite treats also include this item? Yes?
Wow!!! But don't you know how to make them? Let's learn this madeleine's recipe-small cake-like cookie from this article.
How to Make Madeleines?
Ingredients
Unsalted Butter- 7 ½ Tablespoons (98.5 gm)
All-purpose Flour- ¾ Cups (100 gm)
Baking Powder- ¼ teaspoon
Large Eggs (Room Temperature) 2
Icing Sugar ½ Cup (100 gm)
Vanilla Essence- 1 Teaspoon
Lemon Zest- 1 Teaspoon
Machines & Instruments:
An Electric Beater
A Microwave Oven or Gas Stove
A Sieve
Two Bowls
Measuring Cups
Teaspoons
Tablespoons
A Large Plastic Spatula for Mixing
A Madeleine Pan
A Brush
A Fridge
A Small Cookie Scoop
Preparation Time:
Mixing Time- 20 minutes
Melting Time- 2 minutes
Chilling Time – 1 hour
Baking Time- 9-12 minutes
Standing Time- 20 minutes
Total Time- About 1 hour and 44 minutes
Servings-24
Procedure:
Step #1
Melting Butter
Take 7 tablespoons of butter in a microwave oven-proof bowl and melt for two minutes or the time it takes to have the golden brown color. You can also melt the butter in a pan on your gas stove. Be extremely careful while melting the butter so that it doesn't burn.
Step #2
Preparing the Dry Ingredients
Place a sieve over a bowl and get the all-purpose flour, and baking powder sieved into the bowl. Now, whisk up the dry ingredients and set aside.
Step #3
Preparing the Foamy Egg and Sugar Mixture
Crack two room-temperature large eggs in a bowl and add the icing sugar here and beat this mixture high for about eight minutes or until it looks thick, glossy, light-colored, and you have a trail left by the whisk.
Step #4
Adding Butter to the Melted Butter
Now, take your brown melted butter and add a half tablespoon of butter to it so that it looks like 7 tablespoons of butter.
Step #5
Adding the Dry Ingredients to the Egg and Sugar Mixture
Add the dry ingredients gently with a plastic spatula to the egg and sugar mixture. Keep folding the mixture with the spatula until it is mixed and smooth. Add a teaspoon of vanilla extract and a teaspoon of lemon zest to it. Keep folding the mixture until you get a flowing mixture.
Step #6
Including the Melted Butter with the Above Mixture
Include the caramel color butter into the above mixture and fold the mixture once again to have a beautiful and smooth mixture so that it falls gently off the spatula.
Step #7
Cover the mixture with a Plastic Sheet and Refrigerate it
Put a plastic cover over this mixture and cover it all the way so you don't have any surface skin. Refrigerate it for an hour. You need to retain the bubbles and also shrink them down by making them colder. So when you bake, it will expand and puff up to make a beautiful, light, and airy cookie.
Step #8
Brush Butter on the Madeleine Pan and Refrigerate for an Hour
Take a brush and brush melted butter on the madeleine pan and refrigerate it for an hour.
Step #9
Baking the Madeleine Dough
Now, take the dough and madeleine pan out of the refrigerator. Take a small cookie or ice cream scoop to fill up each of the scallop shells of the pan. In case, you don't have such scoops, take a tablespoon and fill up those shells with one tablespoon of the dough. Don't squeeze or mash this dough.
Put this pan inside your electric oven for about 9 to 12 minutes at 375° F or 190°C temperature. It depends on the type of oven and the thickness of your pan. Once the madeleines are done take them out of the oven and leave them for 20 minutes to cool them. Then, serve these awesome and tasty madeleines on a plate and sprinkle icing sugar on them.
Why Do I Prefer This Recipe?
You won't require too many ingredients.
It will teach you to have patience because you need to complete all of the above steps with lots of patience.
If you follow this recipe accurately, the madeleines will taste just delicious.
Once you are used to performing this recipe, you'll become a pro madeleine baker.
Try also my other cookie recipes:
During your coffee time have some cookies and make your snack time more enjoyable. try also my coffee recipes
For Coffee and Tea Lovers: Don't Miss This Article "Coffee vs Tea- which drink is winner"
You can also try my delicious cake recipes at home
If you want to know the difference between Cupcake and Muffin Cake then read this article: Muffin and Cupcake-Which one is healthier
Final Words:
So, what do you think? Can you make madeleines now by following this recipe? Why not? Just give it a try and surprise your loved ones. This madeleine's recipe-small cake-like cookie will help you to become a pro at baking this mouth-watering snack.
If you want to explore the delicious specialties of supreme bakery items, visit LaBaker.
FAQ
1. How are madeleines different from cakes?
Madeleines are prepared with the same materials as cakes, but in reality, they are different. Unlike cakes, madeleines are made in madeleine pans or small molds, usually shell-shaped. Traditionally, they are taken at teatime, but there is no hard and fast rule. You can take them whenever you feel hungry or you feel a craving for them.
2. What do you eat madeleines with?
Sometimes, you can have madeleines for dessert or breakfast. Traditionally, they were taken with tea in the afternoon or simply as part of dessert buffets or desserts.
3. How long are madeleines good for eating?
Find out a well-airtight container to keep madeleines, and you can have them fresh and find them good for eating for around 2-4 days.