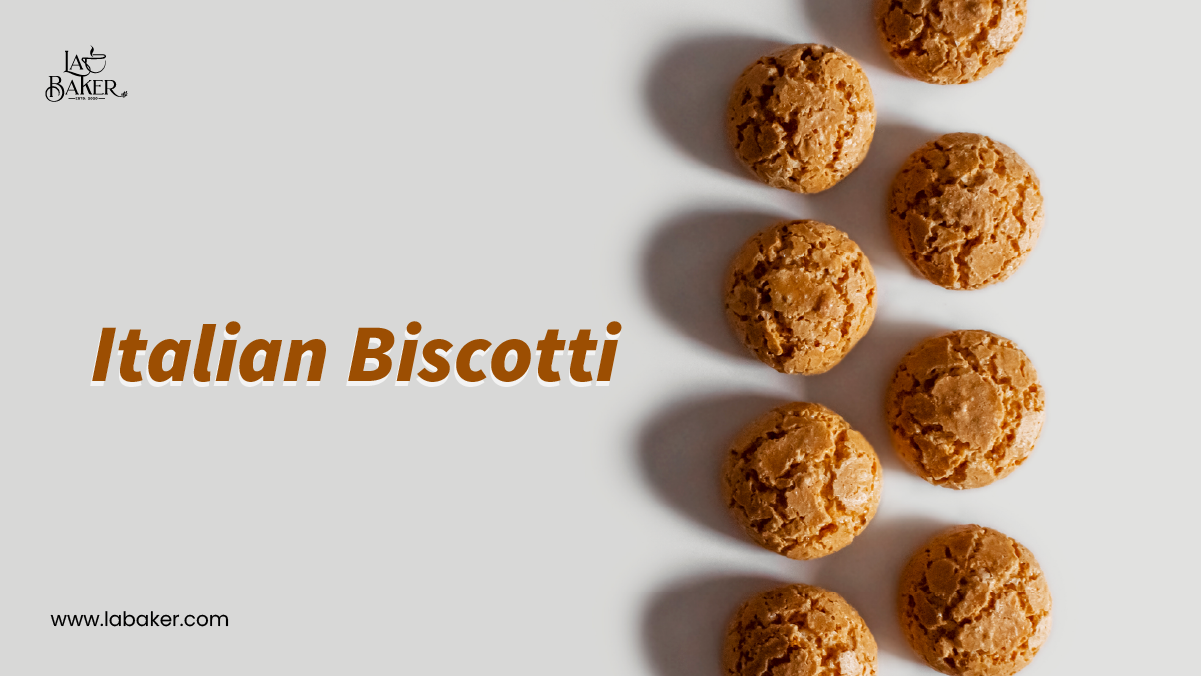 How to Make Italian Bisc...
The Italian biscuit known as biscotti, which means twice baked, is known for its crunchiness. It is served with coffee in Italy. The crunchiness, right texture, tenderness, and mild flavor of the cookie make them appropriate to have with coffee. The traditional Tuscan method of dipping biscotti is into Vin Santo, a sweet after-dinner wine notably produced by monks, however, any sweet wine would do. Biscotti are typically now dipped into hot chocolate, bitter espresso, or sweet coffee latte.
In order to make, you just need the following simple ingredients for the Classic Italian Almond Biscotti (Cantucci)
9 ounces of Flour

6 ounces of Sugar

1 or 1/2 teaspoons of Baking Powder

1 Egg yolk

Butter

¼ of Salt

4 ounces of almond

Vanilla extract flavor

Add-ins
Step #1
Preheat the oven.
Step #2
Gather the ingredients.
Step #3
Start by combining the wet ingredients, the entire eggs, in a large bowl. Next, combine the dry ingredients, flour, sugar, baking powder, salt, and yolk, and combine everything with a spatula to create a uniform, smooth dough.
Step #4
Mix everything up before including the chopped almonds with their skins.
Step #5
A sticky dough results from this. Split the dough in half, equally.
Step #6
The dough should be divided into two equal halves and fashioned into cigar-shaped logs that are 2 inches broad and 6 inches long.
Step #7
For gazing, smear the egg yolk on each log.
Step #8
Cover a large baking sheet using lightly oiled baking parchment.
Step #9
Bake at 180°C in a preheated oven. Cook for the required amount of time, or around 15-20 minutes.
Step #10
To ensure that they toast evenly over the board, turn them in half.
Step #11
When the biscotti cookie loaves have finished baking, their tops are nicely browned and fluffy. The cookie loaf should be sliced when still warm because if it cools too much, it will be difficult to cut.
Step #12
Using a sawing motion, carefully slice the biscotti biscuit into pieces. You can cut to your desire or thinner.
Step #13
Afterward, they are prepared for the last bake. This is what gives cookies their particular and distinctive "twice-baked" quality.
Step #14
Continue baking the cookies until golden brown. Cook the cookies longer if you want them a bit more crispy.
Advantages of this recipe
Preparation time – 16 minutes
Baking time- 25 minutes
Additional time- 5 minutes
Total time- 46 minutes
Servings- 24
Nutrition Facts
For a Serving Size of 1 biscotti, the estimated.
Calories

113

Total Fat 4g – 5%

Saturated Fat 1g- 3%

Cholesterol 46mg- 15%

Sodium 89mg- 4%

Total Carbohydrate 17g- 6%

Dietary Fiber 1g- 3%

Total Sugars 8g

Protein 3g
Try my other yummy cookie recipes
Check out my coffee recipes also
Don't Forget to check out my other blogs about
Conclusion
Start assembling your ingredients and baking! This is a delicious, healthy dessert that is ideal for any season, celebration, or get-together. They will delight cookie and brownie lovers since they will sate their appetites.
Frequently Asked Questions
1. What is the secret to making biscotti?
The Italian biscuit known as biscotti, meaning "twice baked," is known for its crunchiness.
2. What are biscotti called in Italy?
Cantucci. They're called biscotti, outside of Italy.
3. Is biscotti better with oil or butter?
Both are superior. You get to decide what to make your biscotti with. The texture will be softer and the shelf life of those cooked using butter or oil will be shorter.
4. Should biscotti dough be chilled before baking?
It's crucial to refrigerate the mixture for at least 30 minutes before baking for the first round since the dough might be sticky and challenging to shape.