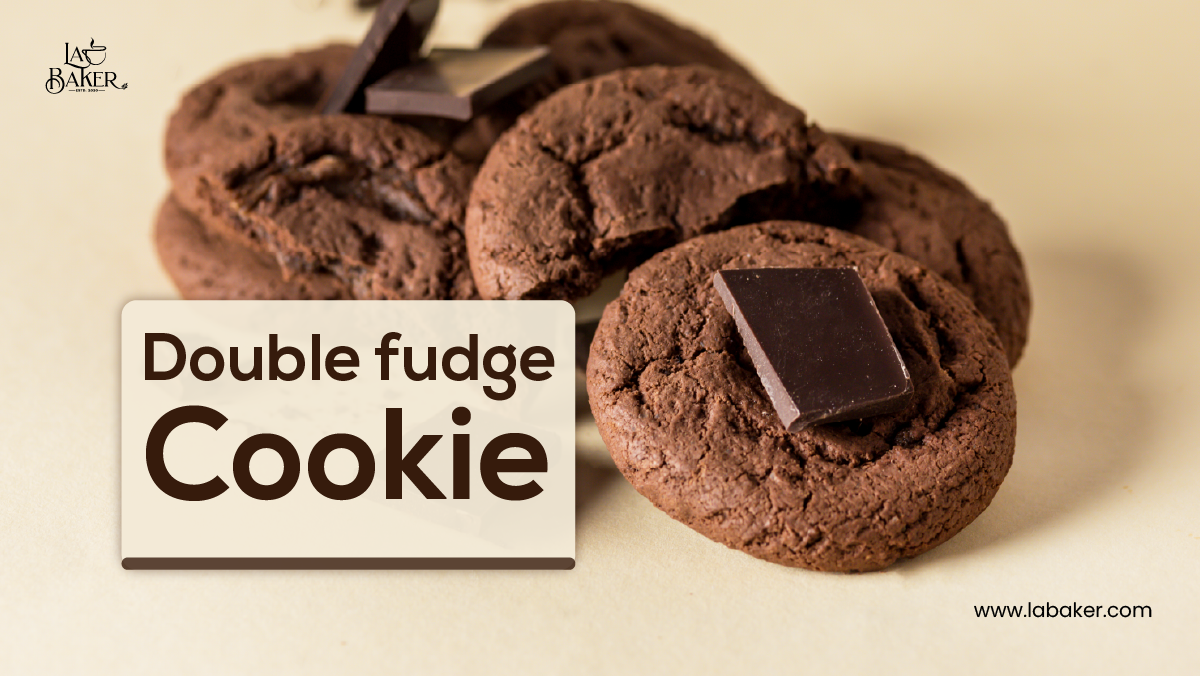 Double Fudge Cookie Recipe- A Taste You Will Remember
You won't dislike double fudge cookies when you're a lover of brownies and cookies. There are different types of delicious cookies such as biscotti, chocolate chip cookies, macaroon, madeleines, oatmeal raisin cookies, and sugar cookies. These are super-rich cookies that are partly brownies, partly cookies, and partly fudges. Again, if they are filled with chocolate chips, they taste even more delicious. Do you know the double fudge chocolate chip cookies recipe?
If you aren't clear please read this article. Because we'll discuss here a double fudge cookie recipe- a taste you will remember.
How to Make Double Fudge Cookies?
Double Fudge Cookies Ingredients
| | |
| --- | --- |
| All-Purpose Flour | ½ Cup (65gm) |
| Unsweetened Cocoa Powder | ⅓ Cup (25 gm) |
| Baking Soda | ¼ Teaspoon |
| Salt | ¼ Teaspoon |
| Chopped Semisweet Chocolate | 1 ½ Cup (150 gm) |
| Butter | ¼ Cup (60 gm) |
| Brown Sugar | 2 Tablespoons (20 gm) |
| White Sugar (Icing Sugar) | ¼ Cup (50 gm) |
| Large Egg (Room Temperature) | 1 |
| Vanilla Essence | 1 Teaspoon |
Machines & Instruments:
A Microwave Oven or Double Boiler
An Electric Oven
A Hand Beater
Two Bowls
Measuring Cups
Teaspoons
Tablespoons
A Large Wooden Spoon
A Sharp Knife
A Cutting Board
A Small Cookie Scoop
A Baking Tray
A Baking Sheet
Preparation Time:
Mixing Time- 10 minutes
Melting Time- 2 minutes
Preheat Time -1 minute
Baking Time- 9 minutes
Standing Time- 5 minutes
Total Time- 25 minutes
Procedure:
Step #1
Preparing Dry Mixture
Take all-purpose flour, unsweetened cocoa powder, baking soda, and salt in a bowl. Mix all the ingredients in the mentioned quantities lightly with a tablespoon. Keep this dry mixture aside.
Step #2
Chopping Semisweet Chocolates
Take a cutting board and a sharp knife. Now, chop semisweet chocolates with those in the mentioned quantity.
Step #3
Melting Chocolates and Butter
Keep the ¾ cup of chopped chocolates and butter in a microwave oven-proof bowl and melt that in the microwave oven for 2 minutes. You can also melt that in a double boiler. Leave it to cool slightly.
Step #4
Adding Ingredients to Melted Chocolate and Butter
Now, add brown sugar, white sugar, an egg, and vanilla essence to it in the mentioned quantities and beat with a hand beater. Then add the dry mixture and mix with the hand beater, but don't over-mix. Now, mix the rest ¾ cup of chopped chocolates with this mixture lightly with a large wooden spoon.
Step #5
Putting the Double Fudge Cookie Dough in the Oven
Take a baking tray and put a baking sheet on it. Then, take a small cookie scoop, take double fudge cookie dough from the above bowl, and put it on the baking tray. You can make around 14 cookies. Place some semisweet chocolate chunks on the cookies.
Preheat your electric oven to 350° F or 175°C for 1 minute. Put the baking tray with cookies inside the preheated electric oven for 9 minutes. After 9 minutes take it out from the oven and leave it for 5 minutes.
Now, serve these delicious double fudge cookies to your loved ones and you also taste them to relish your cookie craving.
Why Do I Prefer This Recipe?
This recipe is too simple and free from hassles.
You don't need to chill the cookie dough.
It takes only 25 minutes in total to prepare this cookie. You can prepare it and even keep your guests waiting to taste it.
If you follow this recipe properly, the cookies will taste awesome.
If you want to store your tasty cookies fresh then you can read "How to store cookies to stay fresh".
You can also try my other cookie recipes for any kind of celebration. These cookies make your everyday special.
For Coffee and Tea Lovers: Don't Miss This Article "Coffee vs Tea- which drink is winner"
Have these cookies with your favorite coffee. Read my coffee recipes also and must try them at home.
Nutrition Facts:
You will get the following nutrition from a Double Fudge Chocolate Chip Cookie
Calories: 110 kCal
Total Carbs: 16 g.
Net Carbs: 15 g.
Fiber: 1 g.
Starch Sugar: 8 g.
Sugar Alcohols: – 0
Protein: 1 g ·
Fat: 4.5 g.
Final Words:
Try this simple recipe to relish your taste for delicious treats. This is a double fudge cookie recipe- a taste you will remember. In case, you want to try some more mouth-watering, delicious specialties, visit La Baker.