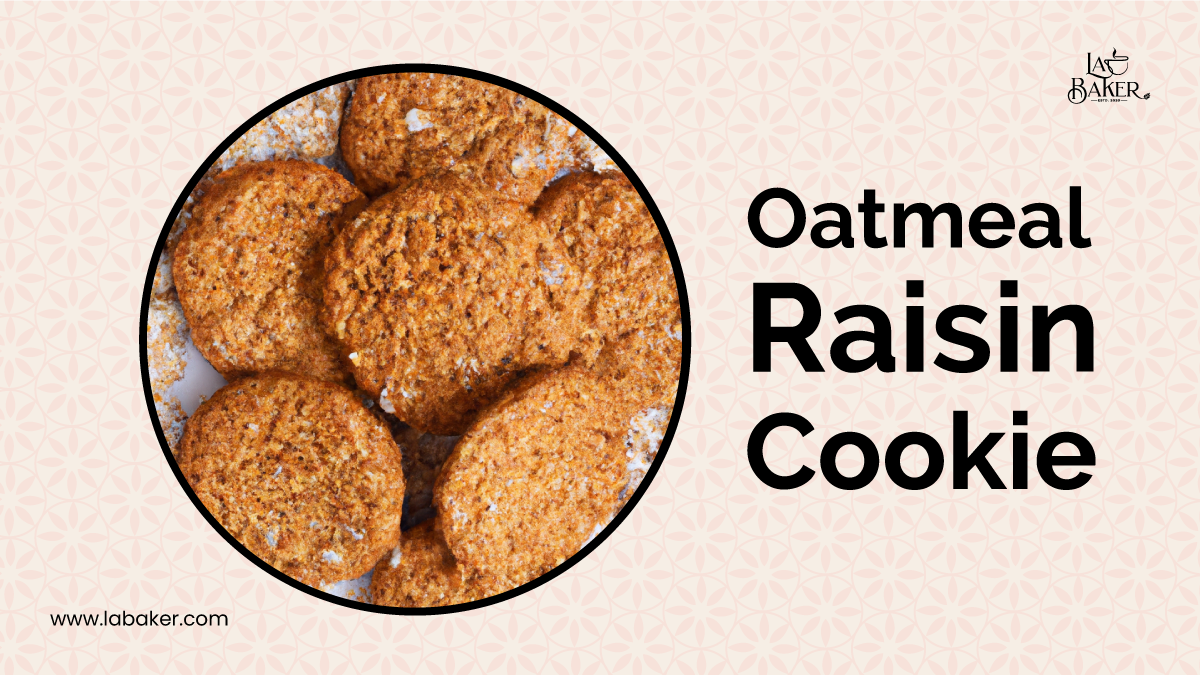 Healthy Oatmeal Raisin Cookie – Recipe
People are becoming more and more health conscious nowadays. Are you a brownie and cookie lover who is looking for a healthy option? Why don't you try my healthy oatmeal raisin cookie recipe? The best thing about this recipe is that it doesn't contain any cholesterol and eggs, so if you are a vegan it will be the perfect recipe for you.
Don't forget to read "How to store cookies to stay fresh"
Oatmeal Raisin Cookie Recipe- A Healthy Choice for Vegans
Oatmeal Raisin Cookies Recipe Ingredients
Rolled Oats (Gluten Free)- 1 ½ Cup
Whole Wheat Flour- 1 Cup
Coconut Sugar- ½ Cup
Cinnamon Powder- 1 Teaspoon
Baking Soda- ½ Teaspoon
Kosher Salt- ½ Teaspoon
Melted Coconut Oil- ⅓ Cup
Unsweetened Apple Sauce- ⅓ Cup
Vanilla Extract- 1 Teaspoon
Ground Chia Seeds- 1 Tablespoon
Normal Water- 3 Tablespoons
Raisin- ½ Cup
Chopped Walnuts- ½ Cup
Machines & Instruments:
An Electric Oven
A Baking Tray
A Silpat Mat
A Large Bowl
A Large Wooden Spoon/ A Large Spatula
A Fork
Measuring Cups
Teaspoons
Tablespoons
Preparation Time:
Mixing Time- 15 minutes
Preheat Time- 1 minute
Baking Time- 10 minutes
Total Time- About 26 minutes
Procedure:
Step #1
Preheating the Electric Oven
Preheat the electric oven to 350° F temperature. Take a baking tray, put a Silpat on it, and spray it down with cooking spray so the cookies don't stick to the tray.
Step #2
Preparing the Dry Ingredients
Take rolled oats, whole wheat flour, coconut sugar, cinnamon powder, baking soda, and kosher salt in the mentioned quantity in a large bowl and gently mix with a fork.
Step #3
Preparing the Chia Egg
Take one tablespoon of ground chia seeds and mix it with three tablespoons of normal water in a cup or small bowl, gently mix with a fork, and keep that for around 10 minutes. It will take a sticky form.
Step #4
Adding Wet Ingredients to the Dry Ingredients
Add melted coconut oil, unsweetened apple sauce, vanilla extract, and a chia egg in the mentioned quantity to the dry mixture. Now, stir it with a large wooden spoon or a spatula to make a thick batter.
Step #5
Adding Raisins and Walnuts to the Batter
Put some raisins and chopped walnuts into the thick batter and mix with the spatula, so it takes the form of cookie dough.
Step #6
Giving the Cookie Dough Shapes of Cookies
Take a tablespoon full of cookie dough on your palm and roll it out and give the form a small disk or a cookie shape. These cookies won't spread out mulch after being baked, so they will come out from the oven, the way they'll be in.
Step #7
Baking the Cookies
Put the cookies on the preheated Silpat mats on the baking tray in the preheated oven, and bake at 350°F for 10 minutes or until the cookies become golden brown. You can make around twenty cookies with this dough. You can make two trays of cookies at a time or you can also do it in batches.
After the cookies are prepared, cool them well, serve them to your loved ones, and also taste them yourself.
Preservation:
You can keep them in airtight containers on your kitchen countertops for 5-6 days. You can also keep them in the refrigerator if you want to keep them fresh longer.
Why Do I Prefer This Recipe?
It won't take too much time to prepare this easy oatmeal raisin cookie recipe.
This recipe is so simple that even novices can make it.
You don't need to chill the cookie dough.
This recipe is good for vegans because it doesn't contain eggs.
If you follow this recipe appropriately, the cookies will taste just delicious.
Oatmeal Raisin Cookies Nutrition Benefits
You'll get the following nutrition from a cookie:
Total Sugars 13 gm.
Saturated Fat 2.5g. 12%
Total Fat 6 gm (8%)
Sodium 110mg. (5%)
Cholesterol 0mg.
Dietary Fiber 1g. (4%)
Protein 2g. (4%)
Total Carbs 23g. 8%
Calories 65
cookies and coffee are great combinations. so, you can try my coffee recipes too.
Read Also my others cookies recipe.
For Coffee and Tea Lovers: Don't Miss This Article! "Coffee vs Tea- which drink is winner"
Final Words:
Have you liked this healthy oatmeal raisin cookie recipe? Yes? Then try this simple recipe today and show your baking skills to your near and dear ones. If you love to relish the awesome taste of some delicious specialties, visit Labaker.
FAQ
1. Should I soak raisins before baking cookies?
Raisins are so dry, that they can absorb the liquid substance from your baked food. So, the best idea for an efficient baker will be to soak the raisins before baking cookies.
2. Should I chill the oatmeal raisin cookie dough before baking?
No, you don't need to chill the oatmeal raisin cookie dough before baking.
3. What is the quantity of oatmeal raisin cookies' calories and fat?
From 1 oz of oatmeal raisin cookie, you'll get 123 calories and 5-6 grams of fat. In the recipe, I've prepared you'll get 65 kcals of calories and a total of 6 grams of fat.
4. Are oatmeal raisin cookies good for weight loss?
Oatmeal raisin cookies contain more fiber. Fiber will help you reduce the levels of blood cholesterol and also reduce heart disease risks. Again, fiber is also good for exact bowel function. The recipe I've prepared here contains coconut oil instead of butter and coconut sugar instead of sugar. So, it contains fewer calories, and fats, no cholesterol, and more fiber. It will be good for your health but I can't ensure that you'll lose weight.