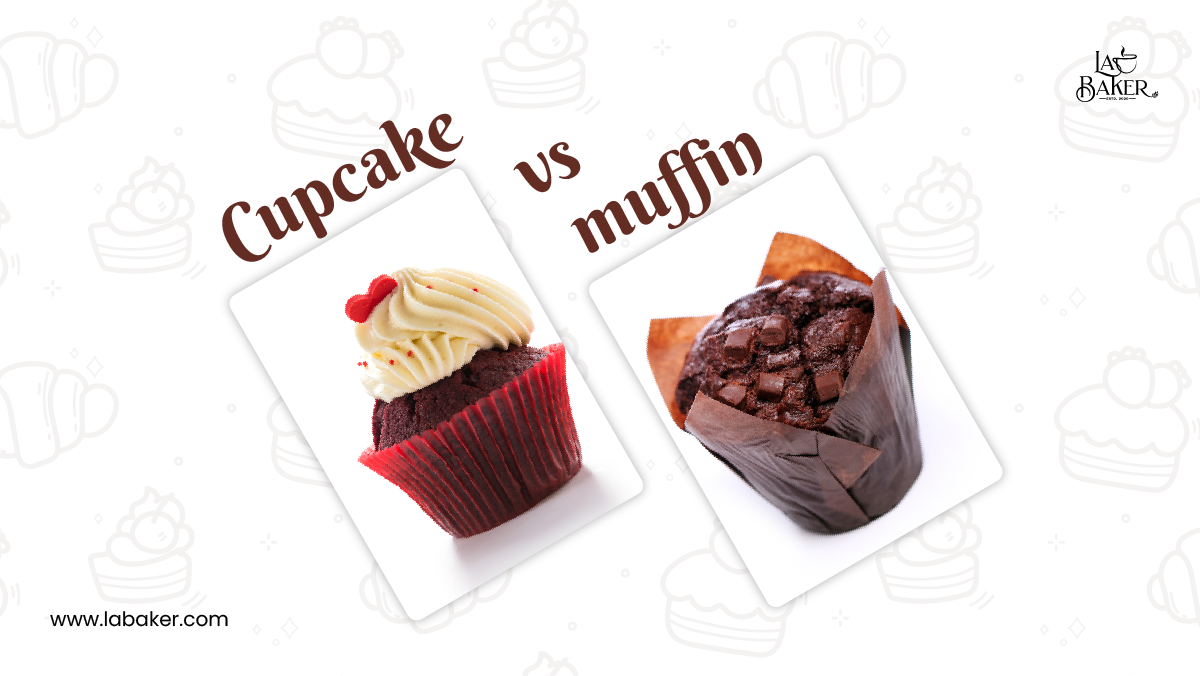 what is the difference between muffin and cupcakes – Which One is Healthier?
Cupcakes and muffins both have almost the same size! Because of their similar size and form, it can be challenging to find the differences between cupcakes and muffins. However, you can find some differences between them. Do you want to know the differences between cupcakes and muffins? If yes! This article is for you!
Here, I will share some differences between cupcakes and muffins. Stay with me to know the answer to 'what is the difference between muffins and cupcakes?' Here, I will also share what is a cupcake or muffin, or both. Let's start the discussion with the definition of cupcakes.
What Is Cupcake?
A cupcake is a little cake that is typically made for one serving. Most shops provide a line of small cakes like cookie in addition to their other desserts because many people enjoy preparing and eating cupcakes and other miniature dishes. A cupcake may be referred to as a fairy cake in some regions of the world, which is possibly an indication of the tiny and delicate size. You can prepare any flavor of cupcake.
Read also: Easy step to make mouth-watering cupcake
What Is Muffin?
A muffin is a single-serving quick bread that rises without yeast using baking soda or baking powder. These sweetbreads have a thicker texture than cakes. Muffins are made by spreading batter onto a muffin pan with additional individual cup-shaped basins. Muffins have become very popular these days.
You can also read: Easiest recipe for making Muffins here
Differences Between Cupcakes and Muffins
Everyone should know the differences between cupcakes and muffins. Here, you will get the most significant differences between them. So, let's start the discussion with muffin vs. cupcake ingredients.
Ingredients Matter Here!
Ingredients make a huge difference between muffins and cupcakes. In cupcakes, people use flour, butter, and sugar to bake. On the other hand, in muffins, whole wheat flour and vegetable oil are used. You can add dry fruits in muffins, but people do not use dry fruits in cupcakes.
Filling and Frosting Make Theme Different
Another major difference between cupcakes and muffins is that cupcake typically includes more sugar, making them significantly sweeter than muffins. They frequently have a variety of delectable frostings applied to them as decorations. On the other hand, muffins can have a variety of fillings, such as jam, chocolate, almonds, or fruits. It is the quickest way to distinguish muffins from cupcakes because muffins never have frosting on them.
Even Processes Are Not Same
The processes of making cupcakes and muffins are not the same. Cupcakes are generally prepared using the same creaming technique as traditional butter cakes. The butter and sugar are "creamed" together using the creaming technique, which includes mixing the ingredients quickly to distribute air evenly throughout the batter. This is the reason why cupcakes have tight crumbs and are fluffy.
Flavor Differs As Well
Most cupcake flavors are sweet or fruity because they are a dessert treat. Chocolate, vanilla, strawberry, chocolate chip, and peanut butter are typical cupcake flavors.
Muffin flavors, on the other hand, are either sweet or savory. For instance, cornmeal muffins are a popular savory alternative while blueberry muffins are a traditional sweet muffin.
Decoration Represents Another Difference
Cupcakes can be decorated with sprinkles, candy, festive paper liners, or intricate icing designs for celebrations and events, making them more aesthetically pleasing than muffins.
Muffins are simpler, and less frequently have a garnish, decorating, or lining. Unlike muffins, which are served as a side dish or appetizer, cupcakes are usually served as a dessert.
Eating Hours of Cupcake and Muffin
Here, another difference comes between cupcakes and Muffins. People mostly have an easy muffin for breakfast. They start their working hours by having muffins for breakfast. On the other hand, people don't eat cupcakes for breakfast. They mostly have it after dinner or middle of the day as a dessert.
Have you ever tried to make cakes at home? Read my others cake recipe:
End Note
Lastly, I believe that you have read the article. I have covered all the significant differences here. Now you are aware of the differences between muffins and cupcakes. Cupcakes and muffins are also known as single-serving cakes. But muffins and cupcakes both are famous, but if you want to go for something healthier, go for muffins. For desserts, you should go for cupcakes. Pick one that suits your taste buds. Take a bite of a muffin or cupcake, and enjoy your day!
Frequently Asked Questions
1. Is a cupcake a muffin or a cake?
A cupcake is not a muffin but a cake with a tiny shape.
2. Which is a bigger cupcake or muffin?
Most cupcakes and muffins share almost the same size. But, sometimes, muffins rise higher than cupcakes.
3. Which is better: cupcakes or muffins?
When comparing cupcakes and muffins, then muffins are better than cupcakes. Muffins are healthier than cupcakes. So, have muffins for breakfast.
4. What is the difference between cupcake liners and muffin liners?
There is no specific difference between cupcake liners and muffin liners. Cupcake liners and muffin liners are the same things.
5. Are muffins less sweet than cupcakes?
Yes. In muffins, people use less sugar than in cupcakes. Because of it, muffins are less sweet and healthy, and cupcakes
6. Do muffins have less sugar than cake?
Yes. People use less sugar in muffins and more sugar in cakes. Soc muffins have less sugar than cake.