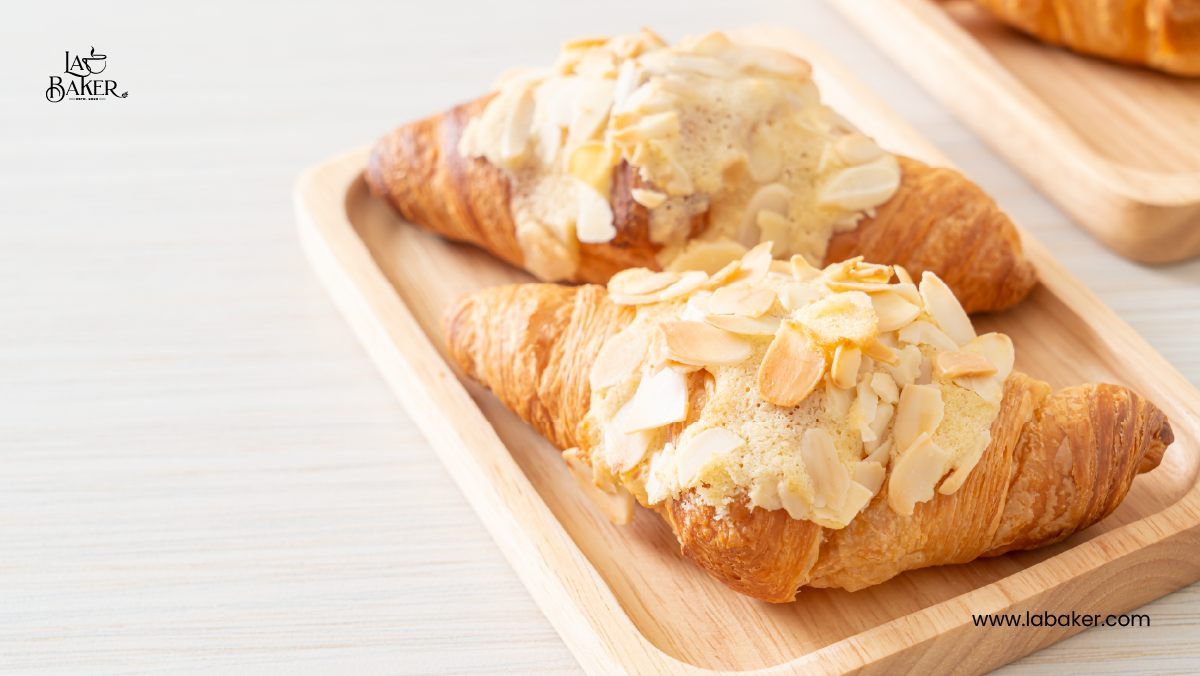 How to Make Almond Crois...
Almond croissants are a delicious breakfast pastry that you can enjoy not only for breakfast but also for snack time. Many people want to make almond croissants at home. But this seems like a daunting task, but with a bit of patience and effort, anyone can make them. All they have to do is to follow a recipe to get the perfect pastry taste.
Are you looking for a healthy almond croissant recipe? This article is for you! Here I will share how to make almond croissants home with almond filling and syrup. You will get other information such as What is almond croissant filling made of and the almond croissant nutrition facts. Stay with me till the end to learn the recipe.
Recipe for Almond Croissants
Ingredients
1 cup almond flour
1/2 cup granulated sugar
1/2 cup unsalted butter, softened
2 large eggs
1 tsp vanilla extract
Egg Wash
1 large egg
1 tbsp milk or water
Croissants pastry sheet- triangle shape (8 pieces)
Sliced almonds for topping look
Preparation time
Cooking time
Servings
Step-by-step guide on how to make almond croissants at home
Step #1
Purchase some party sheets from the bakery to make the almond croissants.
Step #2
Turn on the stove and heat the almond flour in a medium pan to make the almond filling. Cook for 5-8 minutes, and don't stop stirring. Keep stirring until the flour becomes toasted and golden. Turn off the stove and let it cool down.
Step #3
Use a wooden spoon to beat the butter and brown sugar in a medium bowl for about 2 minutes. Keep mixing until the mixture is fluffy and light. Change to a whisk and gradually add each egg using the whisk. Add the flour, salt, and toasted almond flour, and whisk until satiny after adding the almond extract. By this time, the filling should be ready!
Step #4
Set the oven's temperature to 375°F (190°C). Use parchment paper to cover a baking sheet.
Step #5
Take one sheet of each croissant lengthwise in half, but stop short of cutting through.
Step #6
Use a knife or spoon to spread the almond cream filling evenly across each half of the croissant. Be careful at coating the croissant's top.
Step #7
Roll the sheet of croissant and gently press to seal.
Step #8
To make the egg wash, whisk the egg with the milk or water in a small bowl. Each croissant should have the egg wash applied to the top.
Step #9
Top each croissant with some sliced almonds.
Step #10
Bake the croissants for 15-20 minutes in a preheated oven, or until golden brown and the almond cream filling is set.
Step #11
Take the croissants out of the oven and give them some time to cool.
Step #12
You can serve the almond croissants hot or cold.
Nutrition Facts about Almond Croissants
Per 1 Serving
Total carbs: 37.4g
Net carbs: 35g
Fat: 20g
Protein: 8.3g
Calories: 349
Read more of my other blogs:
Do you like this recipe? if yes you will love my other sweet recipes too–
Endnote
In the end, I believe you have gone through the entire article. It is better tobs from the bakery to get the flaky taste. But, you can make the almond filling at home by following this recipe and making some delicious almond croissants. Try this at home today!
Frequently Asked Questions
1. How long does the almond croissant last after baking?
If you keep it inside the refrigerator, it will last for 3-5 days.
2. How to preserve almond croissants?
Take a foil paper and wrap the croissant in it. Then take an airtight container and keep the wrapped croissant in it. Then you can keep the box inside refrigerator.
3. Can we freeze croissants?
Yes. But it is better to keep the croissants inside an airtight box and them keep in the refrigerator to freeze them.