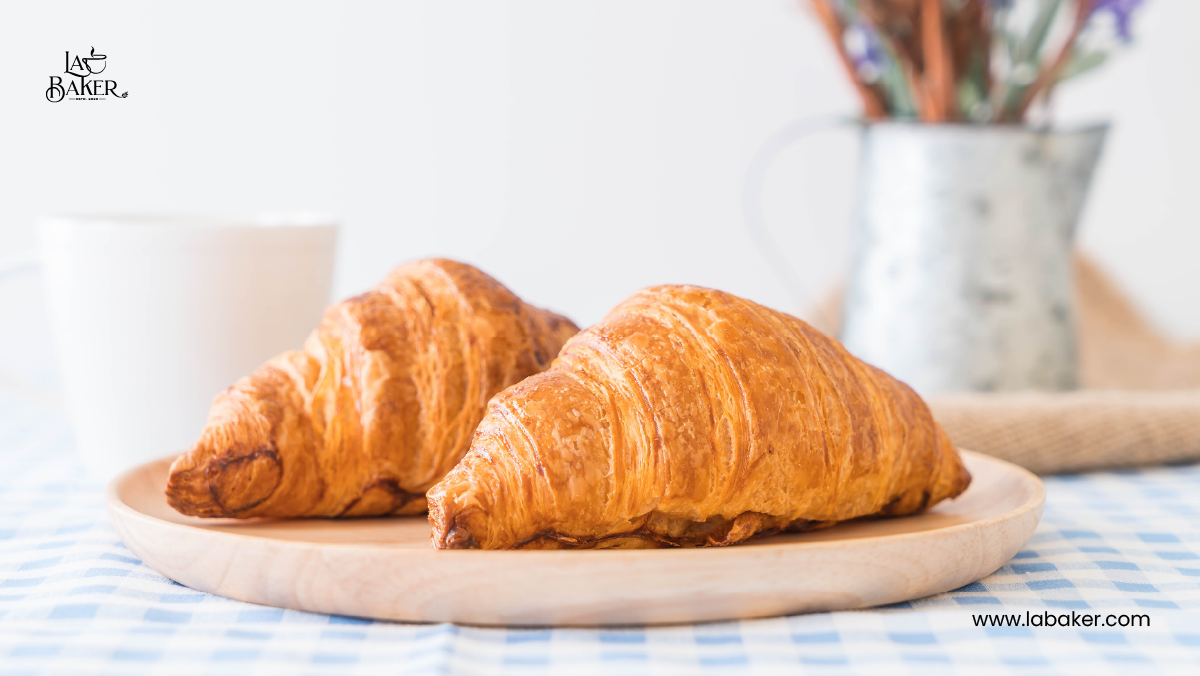 How to Make The Best Cro...
People love croissants worldwide, but they are afraid to make them at home! It's time to overcome this fear! Though making croissants at home may seem challenging, it is not, especially when you follow a step-by-step process. Do you want to get the recipe for the best croissants? If yes, continue to read this entire article.
You can find regular croissants, almond croissants, and chocolate croissants. The recipe you will get here is the recipe for traditional croissants. Here I will share how to make croissant dough, how to roll croissants, what are the main ingredients in croissants and what nutrients are in croissants. You will get here the entire recipe to make a croissant. Stay with me till the end! Don't forget to check the FAQ section as well.
Recipe for The Best Croissants
Ingredients
500g all-purpose flour
10g salt
80g granulated sugar
10g instant yeast
250g unsalted butter,
250ml whole milk
1 large egg
Preparation Time
Cooking Time
Servings
Step-by-Step Guide to Make The Best Croissants
Step #1
Take a large bowl and add flour, salt, sugar, and yeast. Mix them and prepare a mixture.
Step #2
It's time to add the butter to the mixture. Add the butter and use a hand blender to mix them well until the mixture resembles coarse sand.
Step #3
In the third step, you have to add the wet ingredient, which is whole milk. Mix them until the mixture becomes dough. Noe, you know how to make dough for croissants.
Step #4
Take out the dough from the bowl and start reading by keeping it on a rigid board, or you can use a large plate for that. Keep kneading for 4-5 minutes until the dough becomes smooth.
Step #5
It is time to shape the dough. Shape the dough into a rectangle, cover it in plastic wrap, and chill in the refrigerator for 30 minutes.
Step #6
Roll out the dough into a wide rectangle about 1/4 inch thick after 30 minutes.
Step #7
Form a letter by folding the dough in thirds. The first fold is as shown.
Step #8
Roll out the dough again into a wide rectangle after rotating it 90 degrees.
Step #9
Fold the dough in thirds once more, but this time, go the other way from how you folded it before. This is the second fold.
Step #10
Place the dough in the fridge for 30 minutes after being wrapped in plastic.
Step #11
To make three folds, repeat the steps 6 -10 times.
Step #12
Wrap the dough in plastic wrap after the last fold and refrigerate overnight.
Step #13
Prepare your oven for baking. Set your oven to 400°F (200°C) and prepare it.
Step #14
Create a rectangle out of the dough that should be 1/4 inch thick.
Step #15
Make triangles out of the dough roughly 4 inches wide at the base.
Step #16
To create a croissant shape, tightly roll each triangle from the base to the tip. Now, you know how to roll croissants.
Step #17
Keep the croissants on a baking tray and brush with egg wash.
Step #18
Bake the croissants for 18 to 20 minutes or until golden brown.
Step #19
Let the croissants cool for five minutes on the baking sheet before moving them to a wire rack to cool them properly.
Step #20
Time to enjoy freshly baked croissants with your family.
Nutrition Value of A Croissant
Amount Per 100 grams
Calories 406
Total Fat 21 g: 32%
Saturated fat 12 g: 60%
Cholesterol 67 mg: 22%
Sodium 467 mg: 19%
Potassium 118 mg: 3%
Total Carbohydrate 46 g:15%
Dietary fiber 2.6 g: 10%
Sugar 11 g: –
Protein 8 g: 16%
Read more of my other blogs:
Do you like this recipe? if yes you will love my other sweet recipes too–
EndNote
Finally, now you know how to make the best croissants. The process of making it is quite lengthy but pretty simple. It takes time to make some croissants but believe me! If you follow this recipe, the taste of your baked croissants will be the best. Many famous chefs follow this recipe. Try this recipe today and enjoy the best croissants with your family.
Frequently Asked Questions
1. What can you serve with croissants?
You can serve jam, Nutella, berries, and fruit salad with croissants.
2. How to eat croissants, hot or cold?
Ear croissants that are a little hot are always the best. Before eating, you can warm it in the microwave for 2-3 minutes. You can also have it cold, but you won't get the proper taste. So, having croissants hot is the best way to eat them.
3. How many carbs are there in a croissant?
There are 46 g cars in a croissant.
4. How many calories are in an average croissant?
In an average croissant, there are around 406 calories.