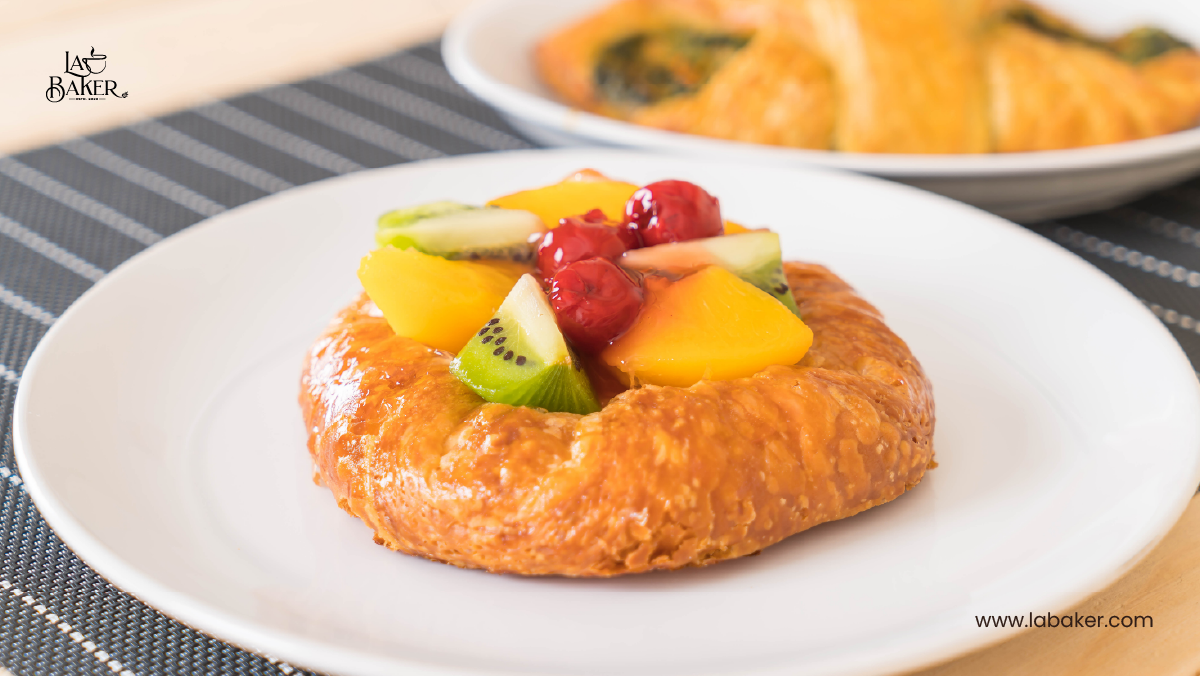 How to Make Fruit Danish...
People always want changes in their food items. They don't always enjoy regular pastries. The same goes for Danish pastries. So, try fruit danish pastry for a fruity and different taste than regular Danish. If you want to make some fruit Danish pastry, then this article is for you.
Here I will share one of the best fruit-filled danish pastry recipes. You will get a step-by-step guide on how to make danish fruit pastry. Here I will also share fruit danish pastry calories and nutritional value of fruit danish pastry. Let's start with the fruit danish pastry recipe.
Recipe for Fruit Danish Pastry
Ingredients
2 1/4 cups all-purpose flour
1/4 cup granulated sugar
1/4 tsp salt
1/4 tsp baking powder
1/2 cup unsalted butter
1/2 cup cream cheese,
1/4 cup water
1/4 tsp baking powder
1 large egg, beaten
1/2 cup fruit preserves (such as raspberry, orange, strawberry apricot, or peach)
2 teaspoons Powdered sugar for dusting
Preparation Time
Cooking Time
Servings
Step-by-Step Guide on Making Fruit Danish Pastry
Step #1
In a large bowl, put flour, sugar, salt, and baking powder and give mix.
Step #2
In the second step, add cream cheese and butter to the mixture. Use a spoon or hand to give a good mix.
Step #3
It's time to add the wet ingredient, water. So add the cold water and keep stirring until the mixture becomes dough.
Step #4
Split the dough in half and shape each piece into a disk. Use a refrigerator to freeze for at least an hour after covering each disk in plastic wrap.
Step #5
Take a plate and add dust and some flour to Create a rectangle out of one of the dough disks about 1/4 inch thick.
Step #6
Separate the rectangle into squares of 4 inches:
Step #7
Fill each square's center with a tablespoon of fruit preserves.
Step #8
Fold the square's corners toward the center, slightly overlapping them, and seal the edges by pinching the corners together.
Step #9
Place the ready baking sheet with the pastries on it.
Step #10
Use the beaten egg to brush the pastries' tops.
Step #11
Continue by using the second dough disk.
Step #12
Bake the pastries in the oven for 18 to 20 minutes or until golden brown.
Step #13
Before adding powdered sugar, let the pastries cool just a little.
Step #14
Your fruit Danish pastries are ready! Enjoy them with your family.
Nutrition Value of Fruit Danish Pastry
Amount: Per 1 Pastry with Icing
| | |
| --- | --- |
| Total Carbs | 16.7 g |
| Net Carbs | 16.1 g |
| Fat | 6.5 g |
| Protein | 1.9 g |
| Calories | 130 |
Try my other delicious recipe like and flaky pastry such as-
You can read also my sweet cake recipe
Endnote
Finally, I think you have read the entire recipe. You now know how to bake fruit Danish pastries. Several chefs use this recipe to make fruit Danish pastries because it is one of the simplest. Make some excellent fruit Danish pastries with this recipe today and share them with your family.
Frequently Asked Questions
1. What is the storage time of fruit Danish pastry?
If you store fruit Danish pastry correctly in the refrigerator, it typically keeps for three days.
2. Can I heat fruit Danish pastry?
Always eat Danish pastries the same day they are made. Nonetheless, Danish pastries can be warmed up the next day over low heat.
3. How do you preserve fruit Danish pastries?
To preserve your fruit Danish pastries and keep them fresh, use a refrigerator. You can keep your fruit Danish pastry in the fridge for a long time.