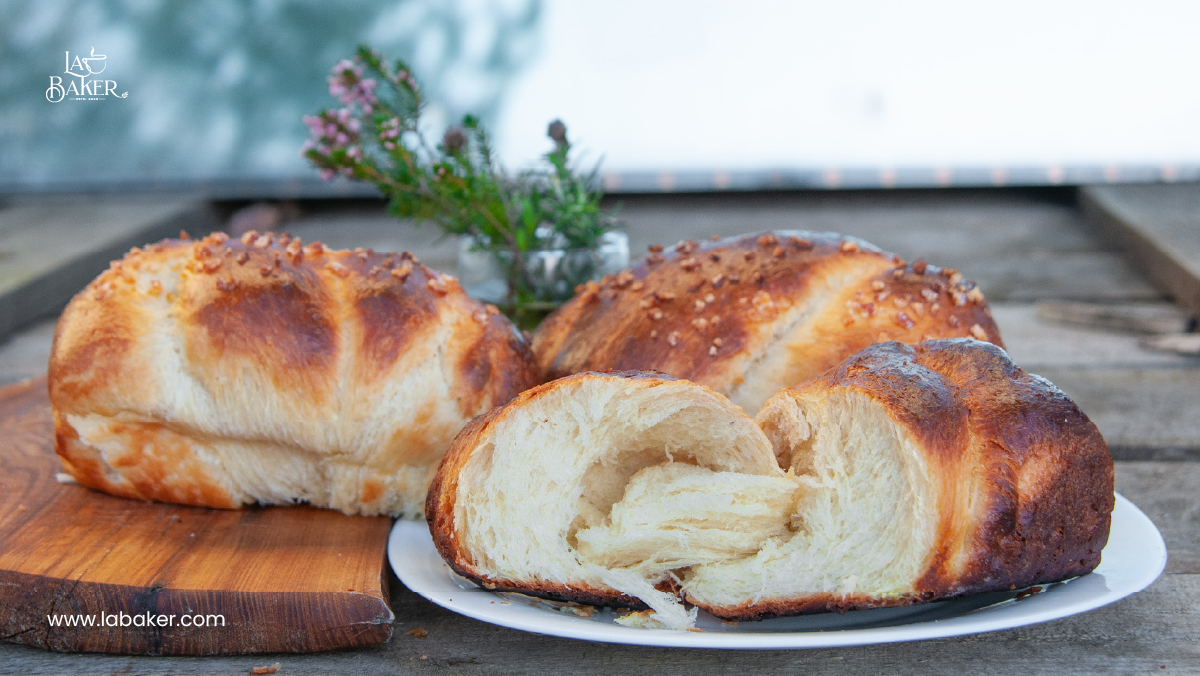 Easy Buttery Flavour Bri...
Brioche bread is a favorite type of French bread that tastes delicious. You can have this bread with anything for breakfast, lunch, and dinner. Baking brioche bread is quite fun and easy. You may find different types of bread, such as baguette, ciabatta, guava cheese bread, artisan bread, and sugar bread.
But, many people struggle when they have to bake some. Do you also struggle when you have to bake brioche bread? Following a proper recipe will solve this issue. Here, I will share the best Buttery Flavour Brioche Bread Recipe.
You will get another brioche bread-related information such as what is brioche bread made of, brioche bread nutritional information, what makes brioche bread different, and many more. Don't miss the FAQ section. Let's start the recipe.
How to Make Brioche Bread (Buttery Flavour)?-Recipe Is Here!
Brioche Bread Ingredients
For Sponge
| | |
| --- | --- |
| All-purpose flour | 1 cup |
| Active dry yeast | 2 1/4 tsp |
| Milk | 1/2 cup |
For Dough
Eggs: 6
All-purpose flour: 3 cups
Sugar: 1/2 cup
Salt: 2 tsp
Soften butter: 2 sticks (1 cup)
For Egg Wash
| | |
| --- | --- |
| Large egg | 1 |
| Water | 1 tbsp |
| Salt | For the sprinkle |
Preparation Time
Cooking Time
Servings
Step-by-Step Process for Making Brioche Bread
Step #1
Start the first step by making the sponge. So, you first have to take a bowl. Then add the ingredients: flour, yeast, and milk. Use an electric hand blender and blend them well. When the mixture is ready, wrap it with a plat wrap and keep the bowl aside for 45 minutes.
Step #2
After 45 minutes, the sponge should be ready. If it is, then we can move to the next step. It's time to add the rest of the ingredients in the same bowl: Add 3 cups of flour, salt, and sugar. Combine them well with the blender until the dough becomes ready. When the dough gives a smooth and stretchy vibe, your dough is prepared.
Step #3
Don't stop the blender. Keep it running. In this step, add 1 tbsp butter and mix it well for the next 13-15 minutes. Then add the rest of the butter gradually and keep the blender running. Mix it for 5-7 minutes until it becomes a dough. Keep the dough aside again by covering it with plastic wrap for the next 1 hour so it can double in size.
Step #4
When the dough becomes dough in size, then start kneading the dough for next to 7-10 minutes. Then, cover the dough again with plastic wrap. After that, keep the bowl inside the refrigerator and keep it there for 10-12 hours.
Step #5
The next day, take out the bowl with dough from the refrigerator. The dough should be doubled now. When it becomes doubled in size again, start kneading. Then cut up the dough into 6 pieces. Space the pieces into rectangular sizes. Then fold each piece into a letter shape.
Step #6
Take the loaf pan and grease it with butter. Place the 6 bread dough side by side. And wrap it with plastic wrap.
Step #7
Prepare your oven for baking. Preheat the range to 375°.
Step #8
Let's wait for the next one and a half hours until the dough doubles.
Step #9
Take another bowl and mix the remaining egg and water. Sprinkle a little salt on top of the loaf after applying egg wash.
Step #10
For about 30 minutes, bake the loaf until the top is golden. Keep the temperature between 190 and 205 degrees.
Step #11
When the baking is done, please take out the bread from the oven and keep it outside so that the bread can cool down totally.
Step #12
Your brioche bread is ready! Enjoy it with your family.
Looking for a great breakfast option? Try my tea recipe "A cup of hot tea-recipe" – it pairs perfectly with bread!
Nutrition Facts of Brioche Bread
| | |
| --- | --- |
| kcal | 163 |
| Fat | 6g |
| Saturates | 2g |
| Carbs | 22g |
| Sugars | 3g |
| Fiber | 1g |
| Protein | 5g |
| Salt | 0.3 g |
Read my other delicious bread recipes such as-
Want to upgrade your burger or sandwich? Try these tasty bread options!
If you have doubts about how to use leftover bread or how to store bread dough then you can read my blogs about these topics. By following these blogs, you can keep your bread and dough fresh for longer and minimize food waste.
Check Out My Other Blog Entries to Learn More–
End Note
Finally, Congratulations! You know how to make brioche bread. Many cooks throughout the world use this recipe to make Brioche Bread. You can use this recipe for baking some brioche bread as it is easy to follow. Try this recipe today!
Frequently Asked Questions
1. What is brioche bread good with?
Brioche bread is good with butter and Nutella. You can make some grilled or toasted sandwiches and hot dogs with this bread.
2. What is brioche bread best used for?
Brioche bread is best used for sandwiches, toasted garlic bread, burgers, and many more.
3. What makes brioche bread different?
Brioche bread is different because the dough is very soft and enriched with taste. When the taste is sweeter than other bread, that is why brioche bread is different from others?