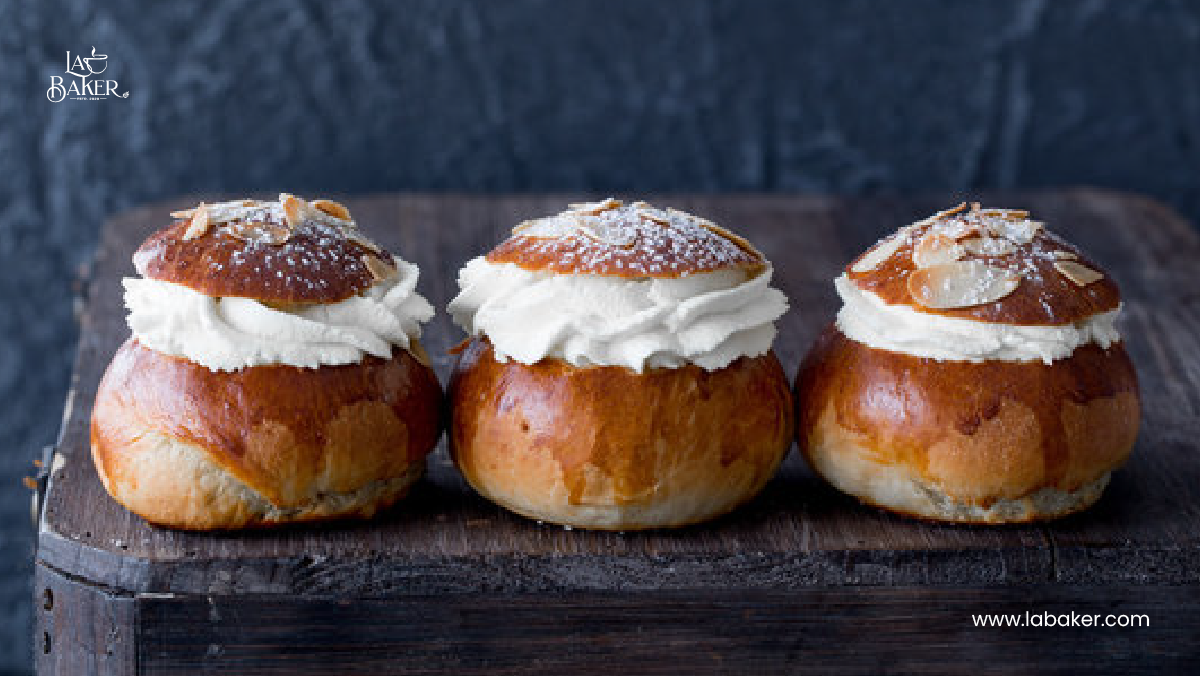 Easy Fiji Style Cream Bun Recipe
If you want to give yourself a delicious treat, then try some Fiji Style Cream Buns. One can eat cream buns at any time of the day as a snack bread. One bun is enough to fulfill your tummy and make you happy. Many people love to bake cream buns at home. They struggle as the process is a little different than other buns.
But, how to make Fiji cream bun? Are you looking for a good recipe? If yes, this article is for you! Here, I will share how to make Fijian cream buns recipe and how to make the bun cream. So, stay with me till the end, to learn the process of making a cream bun.
Recipe for Fiji Style Cream Bun
Fiji Style Cream Bun Ingredients
4 cups all-purpose flour
2 tablespoons active dry yeast
1/2 cup sugar
1/2 cup butter, softened
1 cup warm milk
2 eggs
1 teaspoon salt
1/2 cup heavy cream
1/4 cup powdered sugar
1 teaspoon vanilla extract
Preparation time
Cooking Time
Servings
Step-by-Step Process of Making Fiji-Style Cream Bun
Step #1
Take a large mixing bowl and add flour, yeast, and sugar. Mix them well.
Step #2
Add butter to the mixture and mix well until the mixture becomes crumbly.
Step #3
Take another separate bowl and mix warm milk and eggs, add this wet mixture to the flour mixture and mix well. Keep mixing until a dough forms.
Step #4
Place the dough on a hard plate and start kneading. Continue kneading for the next 10 minutes. Kneading makes a dough smooth and perfect for baking. You must keep kneading until the dough becomes smooth and stretchy.
Step #5
Keep the dough in a greased bowl and cover it with a wet towel. Let's wait for 1 hour until the dough becomes double in size.
Step #6
Set your oven temperature to 350°F and prepare it for baking.
Step #7
Divide the dough into 12 equal pieces after punching it down. Form each piece into a ball before being placed on a parchment-lined baking pan.
Step #8
Give the dough balls another 15 minutes to rise.
Step #9
Bake the buns for 15 to 20 minutes, or until they are just beginning to turn golden, in the preheated oven.
Step #10
Take the buns out of the oven and place them on a wire rack to cool.
Step #11
Make the cream filling while the buns are cooling. Take a mixing bowl and add heavy cream, powdered sugar, and vanilla extract. Mix them well until they become smooth.
Step #12
After the buns have cooled, cut them horizontally in half, and fill the spaces with the cream filling.
Step #13
Your buns are ready. Enjoy your bun!
Nutrition Facts for Cream Bun
Per Serving: 1 bun
Calories 265.
Total Fat 9.7g: 12%
Saturated Fat 5.6g: 28%
Polyunsaturated Fat 0.6g.
Monounsaturated Fat 2.8g.
Cholesterol 59 mg: 20%
Sodium 441 mg: 19%
Total Carbohydrates 38g: 14%
Please check out my other delicious & easy recipes including-
End Note
Finally, I believe you have read the entire article. You now know how to create cream buns in the style of Fiji. One of the simplest recipes is the one I have shared with you, and you can easily follow it. Today, try this recipe and treat your family to some baked Fijian cream buns.
Frequently Asked Questions
1. Does a cream bun have too much sugar?
Not actually. A cream bun has 4.17 g which is not too much sugar.
2. Is a cream bun healthy?
Cream buns have high-level carbohydrates. If you consume too much cream bun, it can increase your blood sugar level. So, cream buns are not healthy. but if you have them once or twice a week then it is fine for your health.
3. Do kids like cream buns?
Yes! Kids love to have cream buns. Cream buns are very soft in texture and the cream filling is quite delicious which a kid always prefers. Kids love to eat cream buns as snacks.