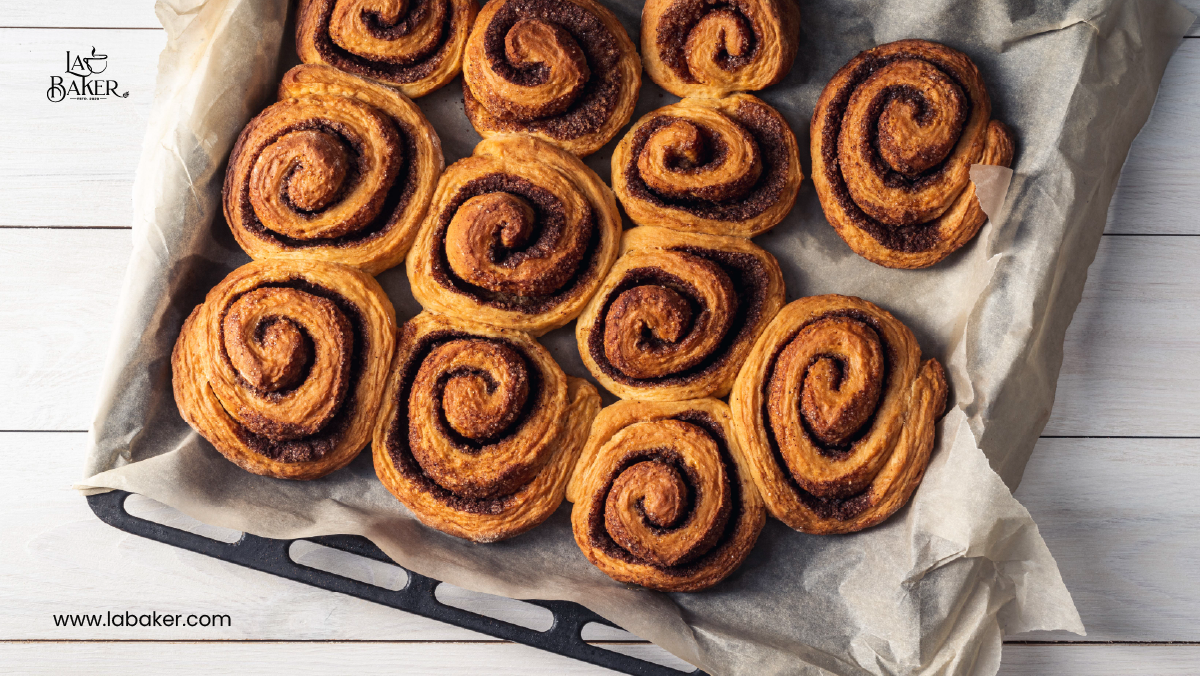 Easy Delicious Cinnamon Rolls Recipe
Cinnamon rolls are a sweet dessert that you can enjoy for breakfast. You can also enjoy it as a snack bread. The rolls are often covered in a sweet glaze or icing and baked till golden brown. When you want to treat yourself, you can make some cinnamon rolls at home.
But, how to make homemade cinnamon rolls? Here, I will share how to make cinnamon rolls and how to make icing for cinnamon rolls. You will get the answer: How do you make cinnamon rolls taste better? So stay with me to learn the process to make cinnamon rolls.
Recipe for Cinnamon Rolls Recipe
Ingredients to Make Cinnamon Roll
For The Dough
2 1/4 teaspoons active dry yeast
1/2 cup warm water
1/2 cup warm milk
1/4 cup granulated sugar
1/3 cup unsalted butter, softened
1 teaspoon salt
2 eggs
4 cups all-purpose flour
For the filling:
1/3 cup unsalted butter, melted
1 cup packed brown sugar
3 tablespoons ground cinnamon
For The Glaze
1/4 cup unsalted butter, softened
2 cups powdered sugar
1 teaspoon vanilla extract
3-4 tablespoons milk
Preparation Time
Cooking Time
Servings
Step-by-Step Guidance on Making Cinnamon Roll
Step #1
Take a large mixing bowl then add yeast and warm water to it. Let the yeast dissolve in the warm water and wait for 5-7 minutes. When it becomes foamy, it is ready
Step #2
Then add warm milk, sugar, butter, salt, 2 cups of flour, and eggs to the mixture. Keep moving it until the mixture becomes smooth.
Step #3
Add the remaining flour a little at a time until the dough comes together and stops being sticky. Start kneading the dough for 5-6 minutes until it becomes smooth and elastic.
Step #4
Put the dough in a greased bowl, wrap it with a damp towel, and allow it to rise for an hour, or until it has doubled in size, in a warm spot.
Step #5
Stet the oven to 350°F (175°C) and prepare it for the next step.
Step #6
Take a small bowl and add melted butter, brown sugar, and cinnamon. Mix them well and make the filling.
Step #7
Take a hardboard or surface and dust flour on it. Roll out the dough into a rectangle. On the dough, evenly spread the filling.
Step #8
Starting with the long side, tightly roll the dough and close the seam at the end. Make 12 pieces off of the roll.
Step #9
Organize the rolls in a 9×13-inch baking pan and grease it. Let the rolls rise for an additional 15-20 minutes.
Step #10
Bake the cinnamon rolls for 20-25 minutes until they turn golden brown.
Step #11
Prepare the glaze by blending the softened butter, powdered sugar, vanilla essence, and just enough milk in a separate bowl. It will produce a smooth, pourable glaze while the rolls are baking.
Step #12
When the baking is done, let the cinnamon rolls cool for five minutes. After that, sprinkle the glaze on top.
Step #13
Your cinnamon rolls are ready. So, enjoy them with your family.
Nutritional Value of Cinnamon Rolls
Per 100 grams
| | |
| --- | --- |
| Calories | 436 |
| Total Fat 24 g | 36% |
| Saturated fat 12 g | 60% |
| Trans fat regulation 0.2 g | – |
| Cholesterol 3 mg | 1% |
| Sodium 305 mg | 12% |
| Potassium 96 mg | 2% |
| Total Carbohydrate 50 g | 16% |
| Dietary fiber 1.3 g | 5% |
| Sugar 25 g | – |
| Protein 4.7 g | 9% |
| Vitamin C | 0% |
| Calcium | 16% |
| Iron | 8% |
| Vitamin D | 0% |
| Vitamin B6 | 0% |
Craving More Baked Goodness? Check Out my Other Delectable Blogs!
End Note
In the end, I believe that you have gone through this recipe. Now, you know how to make cinnamon rolls. This recipe is very easy to follow and many chefs worldwide follow this recipe. You can simply follow this recipe and trust me! The result will be amazing. Try this recipe today and make some delicious cinnamon rolls.
Frequently Asked Questions
1. What does pouring heavy cream on cinnamon rolls do?
Pouring heavy cream on cinnamon rolls makes the rolls soft and moist.
2. How long to cook cinnamon rolls?
You need 18-20 minutes to cook cinnamon rolls at the oven temperature is 350°F (175°C).
3. Is cinnamon rolls a breakfast food?
Yes! In North America, people have cinnamon rolls for breakfast food. They start their day with cinnamon rolls.