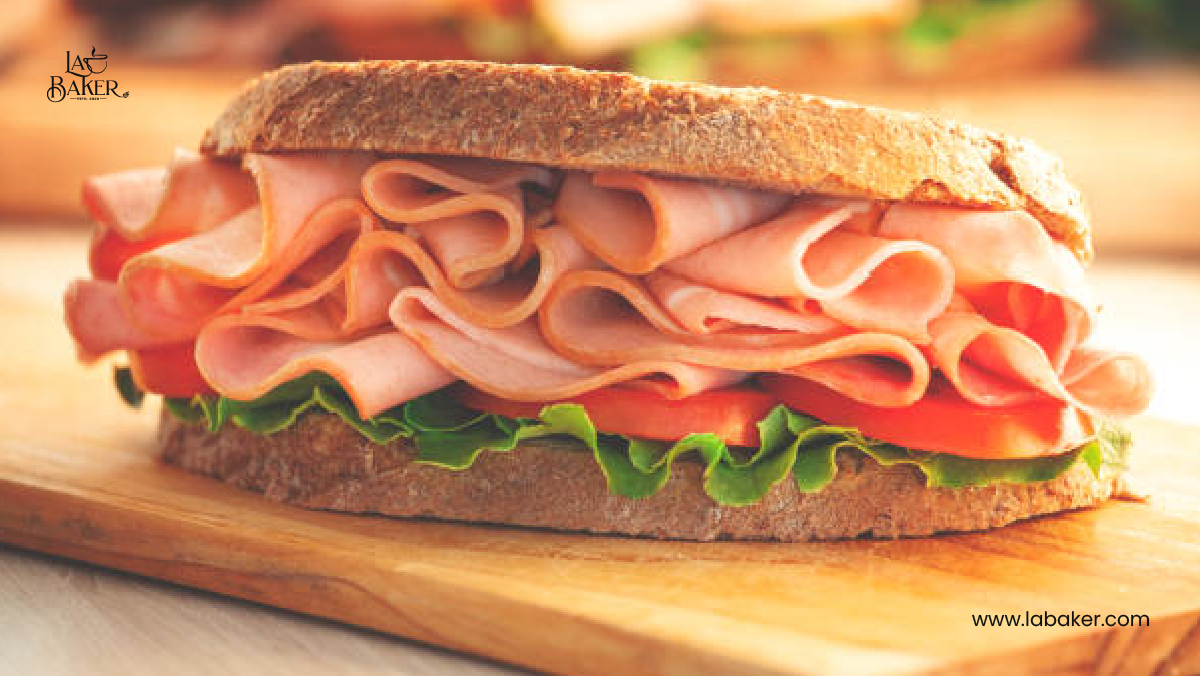 Get The Halal and Easiest Turkey Ham Bread Sandwich Recipe Here!
Sometimes, people crave having a light sandwich for breakfast, lunch, or dinner. Having a halal turkey ham bread sandwich is the perfect light sandwich that one would love. Turkey ham sandwiches are super delicious and one sandwich is enough for one person. So, are you looking for the halal turkey ham bread recipe? If yes, I will share it with you!
Here, you will get the turkey ham bread sandwich recipe. You will also find here the turkey sandwich meat nutrition information and what are the ingredients in the turkey ham sandwich. Don't forget to check the FAQ section for additional information. Let's start with the recipe.
Recipe for Halal Turkey Ham Bread Sandwich
Ingredients
4 slices of halal turkey ham
2 slices of bread (white or whole wheat)
2 lettuce leaves
2 tomato slices
2 cheese slices
Mayonnaise
Mustard
Preparation Time
Cooking Time
Servings
Step-by-Step The Process to Make Halal Turkey Ham Bread Sandwich
Step #1
Turn on the stove and put a pan on it. Keep the 2 slices of bread on the pan and toast each side properly. If you have a toaster, then use that to toast your bread slices.
Step #2
It's time to prepare a sandwich. Add a lettuce leaf on top of one of the slices. Make sure the lettuce leaf is fresh.
Step #3
Add halal turkey ham slices on top of the lettuce.
Step #4
Add tomato on top of the turkey ham.
Step #5
If you like cheese, add cheese slices above the tomato.
Step #6
Add some mayonnaise or mustard on the other side of the bread. If you want you can also spread some mayonnaise or mustard on top of the cheese slices.
Step #7
Keep the other slice of bread on top of the cheese slices.
Step #8
Cut the sandwich in half carefully.
Step #9
Enjoy your freshly made halal turkey ham cheese sandwich.
Nutrition Facts of Halal Turkey Ham Sandwich
Per Servings: 1 Sandwich
Calories: 505
Total Fat: 27g grams
Saturated Fat: 8.8g grams
Trans Fat: 0.3g grams
Polyunsaturated Fat: 8.1g grams
You will also like –
Tea will be a good combination with bread sandwich, so you can check out my blog "A cup of hot tea-recipe"
End Note
Finally, I believe that you have gone through this entire article. This recipe is the easiest recipe ever that one can follow to make a delicious halal turkey ham bread sandwich. A halal turkey ham bread sandwich is enough to fulfill your hunger! Try this recipe today and enjoy your halal tourney ham bread sandwich.
Frequently Asked Questions
1. Is a turkey ham sandwich healthy?
Yes. It has low carbs and is a ground source of protein. So, a turkey ham sandwich is healthy.
2. Is the turkey sandwich halal?
Yes. If the turkey has been slaughtered following Islamic rules and the sandwich is made of the meat of that turkey, then the sandwich is halal.
3. How many calories are in a ham Sandwich?
There are 550 calories in a ham Sa