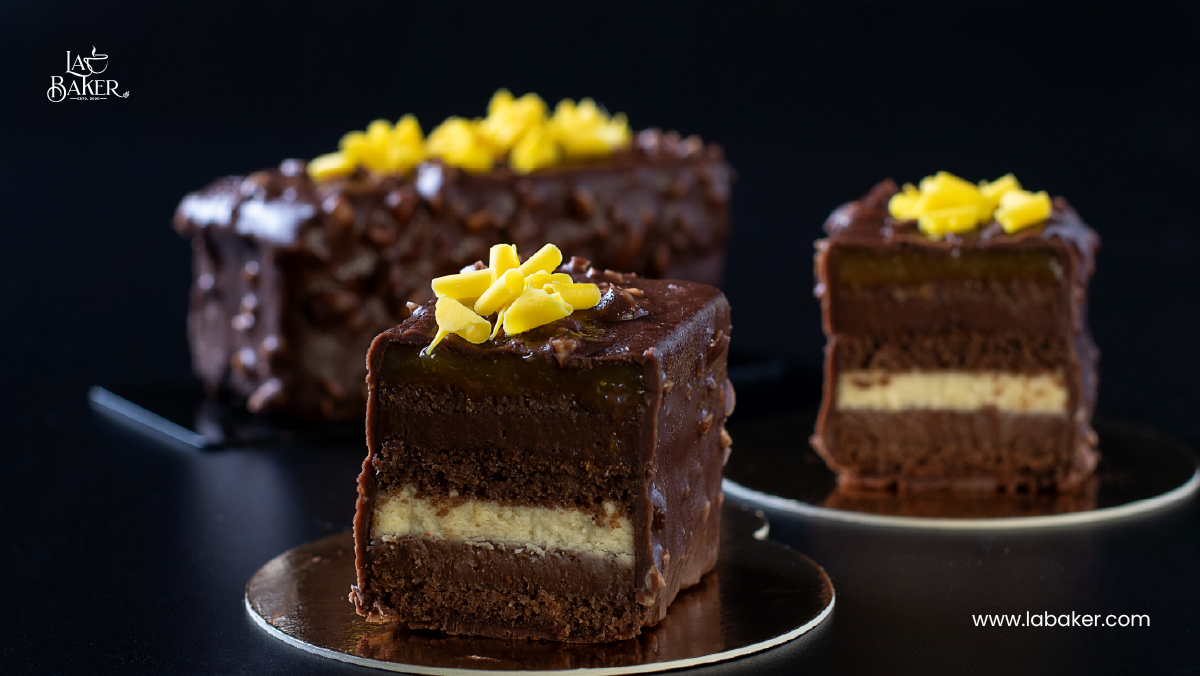 Try This Chocolate Passion Fruit Cake Today!
This chocolate passion fruit cake is the perfect dessert for any occasion. Rich chocolate cake and jammy passion fruit filling combine for a deliciously balanced flavor that is sure to impress your guests. Whether you're a chocolate lover or a passion fruit lover, this cake will satisfy your sweet tooth.
Here, I will share a chocolate passion fruit cake recipe. You will learn how to make chocolate and passionfruit layer cake. I will also share how to make chocolate passion fruit cream cake. So stay with me till the end to learn the recipe.
Recipe for Chocolate Passion Fruit Cake
Ingredients
For the cake
1 3/4 cups of all-purpose flour
1 3/4 cups of granulated sugar
3/4 cup of cocoa powder
1 1/2 teaspoons of baking powder
1 1/2 teaspoons of baking soda
1 teaspoon of salt
1 cup of buttermilk
1/2 cup of vegetable oil
2 eggs
1 tablespoon of vanilla extract
1 cup of boiling water
For the passion fruit filling
3/4 cup of passion fruit pulp
1/4 cup of granulated sugar
1 tablespoon of cornstarch
1 tablespoon of unsalted butter
2 egg yolks
For the chocolate ganache
1 cup of heavy cream
8 ounces of semisweet chocolate chips
Preparation Time
Cooking Time
Servings
Step-by-Step Process of Making Chocolate Passion Fruit Layer Cake
Step #1
Preheat the oven to 350°F. Butter and flour two 9-inch round cake pans.
Step #2
Take a large bowl, and whisk together the flour, sugar, cocoa powder, baking powder, baking soda, and salt.
Step #3
In another bowl, mix the buttermilk, oil, egg, and vanilla extract.
Step #4
Gradually add the dry ingredients to the wet ingredients and mix until fully combined.
Step #5
Add slowly boiling water and mix well. The dough will be very smooth.
Step #6
Divide the batter evenly between the prepared cake pans and bake for 30-35 minutes or until a toothpick inserted in the center of the cake comes out clean.
Step #7
Let the cakes cool in the pans for 10 minutes, then remove them to cool completely on a wire rack.
Step #8
To prepare passion fruit filling, put passion fruit pulp, sugar, cornstarch, butter, and egg yolks in a saucepan. Cook over medium heat, stirring constantly, until the mixture thickens and coats the back of a spoon.
Step #9
Remove the pan from the heat and allow the passion fruit filling to cool to room temperature.
Step #10
To make the chocolate ganache, bring the heavy cream to a boil in a small saucepan. Remove the pan from the heat and stir in the chocolate chips until they have melted and the mixture is smooth.
Step #11
To assemble the cake, place one cake layer on a serving dish or cake stand. Spread the passion fruit filling evenly over the top of the cake layers.
Step #12
Place the second layer of cake on top of the passion fruit filling. Pour the chocolate ganache over the top of the cake, spreading it to the edges and letting it drip down the sides.
Step #13
Place the cake in the refrigerator for at least 30 minutes before serving
Step #14
Enjoy your delicious chocolate passion fruit layer cake!
Nutritional Facts of Chocolate Passion Fruit Cake
| | |
| --- | --- |
| Calories | 446 kcal |
| Carbohydrates | 36g |
| Protein | 6g |
| Fat | 26g |
| Saturated Fat | 16g |
| Polyunsaturated Fat | 1g |
| Monounsaturated Fat | 7g |
| Trans Fat | 1g |
Try my other yummy chocolate cake recipes like
Do you like my chocolate cake recipes? If yes, then you will try my other sweet recipes too
End note
Finally, Chocolate Passion Fruit Cake is a delicious and delicate dessert that is perfect for special occasions or as a decadent treat for yourself. Rich layers of chocolate cake and rich passion fruit filling create a unique and unforgettable taste that is sure to impress. With a little patience and attention to detail, anyone can make this amazing cake at home. Whether you're a seasoned baker or a beginner, give this recipe a try and treat yourself to a slice of chocolate and some fruit.
Frequently Asked Questions
1. Can I make this chocolate passion fruit layer cake in advance?
Yes, you can make this cake in advance. It is recommended to prepare the cake layers and passion fruit filling in advance and assemble the cake just before serving for the best texture and taste. Store the cake layers and filling separately in the refrigerator and assemble the cake on the day of serving.
2. Can I use other fruits instead of passion fruit for the filling?
Yes, you can use other fruits of your choice as filling. Some good options are raspberries, strawberries, mango, or pineapple. Remember that the taste and texture of the filling may vary depending on the fruit you choose.
3. Can different types of chocolate be used in the cake?
Yes, different types of chocolate can be used for the cake. This recipe usually uses dark chocolate, but you can use milk or white chocolate if you prefer. Remember that the taste and sweetness of the cake may vary depending on the type of chocolate used.
4. How long does this cake stay fresh?
The freshness of the cake depends on how it is stored. If stored in the refrigerator in an airtight container, the cake will stay fresh for 3-4 days. However, for the best taste and texture, it is recommended to use the cake within 1-2 days.